When you're a nurse, every inch of space counts and you can't carry just anything. However, having some extra space for bringing your own lunch is almost a necessity, since it will help you avoid unhealthy take-out food and save you from constantly looking at the lunch break during the lunch break. Still, you can't bundle it in with your medical equipment – it's simply unsafe.
The best solution for this is getting a dedicated lunch bag. It doesn't have to be too large – just enough to fit everything you need for a meal. It won't add much to your load, but it will help you carry all the nutrients you need for the day.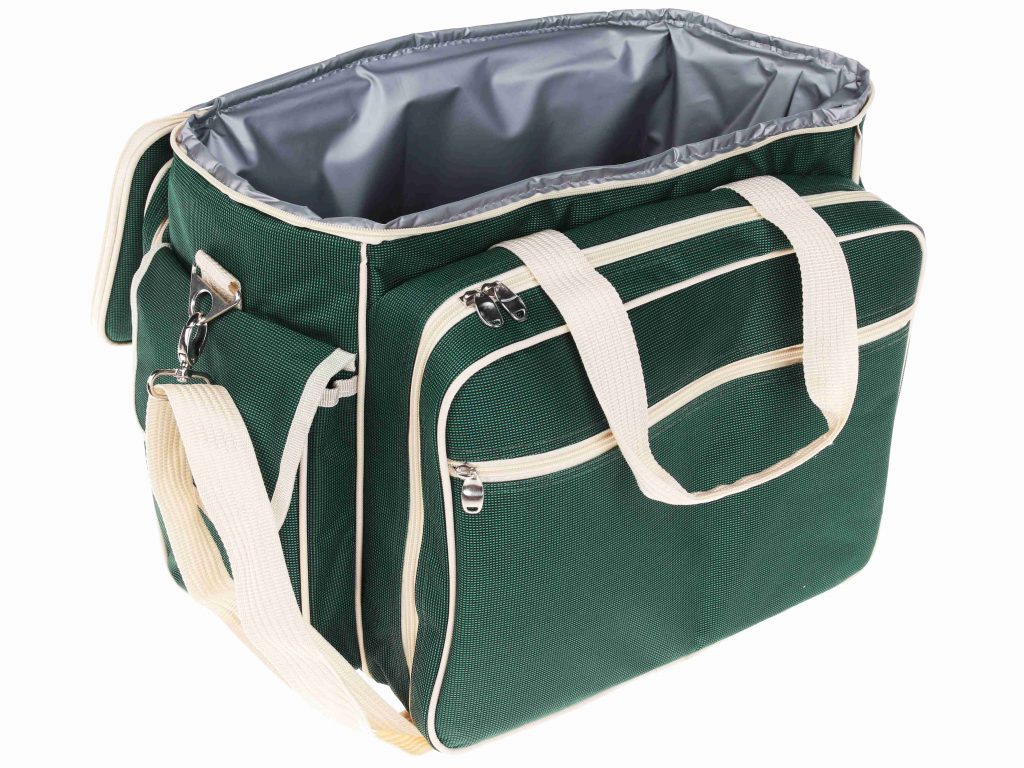 Today, I'll talk about the best nurse lunch bags that can be found on the market today and how to find the right one for you.
How to Find the Best Nurse Lunch Bag
When you're out shopping for a lunch bag, you might not know what to look for, and the things you need to consider are not the same as when you're buying a regular or a medical bag. Here are the most important things you should keep an eye on.
Check Out the Capacity
As a nurse, you need to bring a lot of stuff without overburdening yourself. It's tough to manage, and you'll probably find yourself 'playing Tetris' every morning. To that end, you need a lunchbox that can carry enough stuff but is also compact and not too cumbersome to carry.
Raw capacity is not the only important thing, though. The way that capacity is distributed is also important. A bag with one large compartment is drastically different from a slightly smaller bag with many different compartments. You'll probably need to pack different foods separate from each other, so the second option is preferable.
The shape and size of the individual compartments are also important, as well as how leak-proof they are. If you don't want food to mix, that last part is especially pertinent – or you can eat porridge-covered cake if you want.
Of course, it all depends on what you're looking for, but the key thing is to get a bag that can adequately fill your needs without being too much of a burden.
Make Sure It's Durable Enough
You should always get your money's worth and a bag that falls apart in a matter of months is not a product you should get. Always check how well it's constructed before buying it since it can also be a safety hazard. You don't want to spill food, especially hot food, in the middle of a hospital or even the street. At the least, you don't want to stain your scrubs.
There are no surefire ways to check how durable a bag is, though you can always check the stitches and seams and see if there are already some signs of them coming apart. If there is, don't buy that bag. You can also consider the material it's made from – bags made out of thicker fabric are more durable, and bags made out of steel are better than plastic ones for sure.
Another way to check this is to see what other people who bought the bag say about it. A throng of negative reviews mentioning the poor durability is something I would take as a sign to avoid buying the bag.
How do You Carry It?
Different lunch bags will have different carrying methods built into them, and that should play a key part in your selection process.
There are three main ways that lunch bags like these can be carried. Those that have backpack-like straps can be carried on your back, those with a handle can be carried in your hand, and those with a shoulder strap can be slung over your shoulder. Some bags might have two or even three of these carrying methods built into them.
Of course, besides the ways in which you can carry it, you should also look at the quality of the straps or handles. Can they withstand the pressure? Can you fill the entire bag and expect them to stay in one piece? The best way to see if this is true is to look at customer reviews and decide based upon real user experiences.
Some smaller lunch bags or boxes don't have any straps or handles – these are meant to be carried in another bag and not by themselves. This has some benefits too since it can keep your load much lighter if you don't need that much capacity, so having no strap or handle doesn't immediately place a lunch bag out of consideration.
Insulation is a Huge Plus
One of the best additional features you can have in a lunch bag, and one of the most commons ones is insulation. It means that the bag is good at keeping heat in and keeping it out, so hot food will stay hot and cold food will stay cold.
Besides just checking if a bag has insulation or not, you should also check how good the isolation is. Some bags will be able to keep food hot or cold for up to 12 hours, which is great for those long night shifts. However, such bags will have thick insulation, making them heavier. If you don't need to store food for that long, go for a bag with lighter insulation.
Also, another thing to take into account is how far does the isolation extend – you might want to keep some foods out of it and some foods in it. In that case, having pockets that aren't insulated in addition to a large insulated compartment is good for you.
In the end, it all depends on what your exact needs are.
Are There Any Good Extras?
Lastly, another thing to look at is the extras that come with the lunch bag you're buying. Some of those extras might be especially important, like additional plastic holders that can fit neatly into the bag, or a set of good eating utensils. Water bottles or thermoses also come as extras with some lunch bags and they can immensely useful.
Of course, some extras can just be useless junk. To check the usefulness of the extras that come with the bag you should check out some user experiences on the matter. Also, definitely don't buy a bag just because it comes with a lot of extra goodies – it might mean the bag is of poor quality and it's sold on the back of these things, and what you need is the lunch bag itself.
The 5 Best Nurse Lunch Bags You Can Buy
To help you make your choice, here are my thoughts and opinions on the best nurse lunch bags I could find right now.
Everest Cooler Lunch Bag
This is an exceptionally cheap lunch bag, but it is functional and even exceptional in some areas. It also looks good, coming in a wide variety of beautiful color schemes. But, enough about the looks – what's inside?
Well, inside is some good isolation that can keep food hot for up to 6 hours and cold for even 8 or 10 hours, depending on the outside temperature. It also has around 300 cubic inches of capacity, so you can store quite a lot inside. It even has a few additional, non-insulated pockets and compartments that you can use.
The only way to carry it is by using a shoulder strap, so if that's not your style, it might not be right for you. It's not difficult to carry due to being so compact, but it might not fit some people.
There are some problems though – especially issues with durability. The zippers on the two main compartments are quite flimsy and will start malfunctioning quickly, even if you take care of them. The side pockets are also small and mesh on them is flimsy, so they're not of much use.
Overall, it's good and cheap but you shouldn't expect it to last for too long.
Pros:
It's got plenty of capacity
It's easy to carry
The insulation is great
The price is quite low
Cons:
It's not exceptionally durable
The mesh pockets are too small
Kaptron Lunch Bag
This is a trendy looking lunch bag that's completely eco-friendly and machine-washable, making it easier to clean than most lunch bags. That's good because it gets dirty quite easily and the smells are difficult to get out even with repeated washings.
Otherwise, the bag is completely waterproof, and it's not prone to leaks either – quite durable in all regards. The handle can withstand the full weight, and it also comes with a good shoulder strap. Another great extra is the matching bottle cover.
The capacity is decent, and it can carry boxes up to 10x6x10 inches. The interior is insulated, but don't expect your food to stay hot or cold for more than 2 to 4 hours, or even less than that.
The shape of the bag is a bit odd, so it might be difficult to carry certain foods or containers in it. There's also a distinct lack of any extra pockets – you only have one compartment, and that's it.
Overall, it's not too bad, especially for a price like this, but it certainly does have some flaws that keep it down.
Pros:
Easy to clean since it's machine washable
Completely waterproof
Has a handle and comes with a shoulder strap
Comes with a great bottle cover
Cons:
The insulation is not too great
It gets dirty fast and keeps smells
The shape is odd, and there are no extra pockets
FUNJIA Double-decked Insulation Lunch Bag
The price of this bag is great, but that's just the start of it. Overall, it has decent capacity while also being compact and incredibly easy to carry. Both the handle and the shoulder strap work good, and you can rely on them even when the bag is full. There's also an additional pocket on the side if the inside is not enough for you, perfect for a water bottle.
The insulation here is decent, but not exceptional. It will keep foods cold or hot for around 4 to 6 hours at most, but no more than that. Using ice to supplement the isolation is not an option here since this is not a waterproof bag at all.
One of the main downsides here is the fabric it's made out of. It gives it a good look, but it tears easily, snags on everything and it starts looking shaggy in a matter of weeks.
The stains are the worst – they won't come out no matter what you try. It stains easily, and you'll have a hard time keeping it clean.
Overall, it's a good smaller bag at a low cost, but don't expect it to last.
Pros:
It comes at a great price
Great capacity with a good additional pocket
Compact and easy to carry
Cons:
The felted fabric gets shaggy and tears easily
It stains easily
Comes with no extras
Everyday Supply Co Insulated Lunch Bag
The insulation here is quite good, and it even comes with two ice packs that fit neatly into it if you need to keep your food or drinks extra cold. With the packs in, it should keep stuff cold for up to 12 hours or even more. Even without them, you can expect your food to stay cold or hot for up to 8 hours.
Another great thing about it is the shoulder strap – it has nice padding, and it's wide enough, so it doesn't dig into your shoulder. It's a bag that's easy to carry, and you can also use the handle. The capacity is decent as well, with a size of 10×7.5×9 inches.
Of course, it's not perfect, and there are some flaws. The zippers are the most important thing since they break easily and you'll need to be extra careful with them if you want to keep using it.
The bottom of the bag is also not hard enough, which can pose problems when you fill it to capacity.
Another key part is that the insulation might come off, especially if you wash it too rough, so be careful with that as well.
It's a great bag, but you should watch out for those problems when you buy it.
Pros:
The shoulder strap is great and makes it easy to carry
It has a lot of useful extra pockets
Comes with two ice packs
Resistant to stains
Comes at a great price
Cons:
The zippers are flimsy and break easily
The bottom has no support
Modetro Lunchbox
If you're looking for an ultra-compact lunch bag/box, this is the one you should get. It is made for carrying one meal, but it excels at it. It comes with a great handle and an attractive exterior that hides a bento-style lunchbox with three separate food compartments that are completely safe and leak-free. Overall, it's 9×9 inches, while being only 2 inches wide.
The food container itself is incredibly easy to clean, and it doesn't hold any smells. It can be put in the dishwasher, and it's completely safe to do so. The smaller compartments hold 7 fluid ounces, while the larger one takes 14 fluid ounces.
There is no insulation to speak of here though, so don't expect your food to stay at the right temperature. There is an extra insulation bag that you can buy, but that's extra money spent on top of the high price of this lunchbox.
Overall, it's good if this is the style of lunch bag that you're looking for and are willing to pay the high price. However, if you want something for the entire day, this is not for you.
Pros:
Extremely compact and easy to carry
Three separate, leak-proof compartments
Incredibly easy to clean, dishwasher safe
Incredibly durable
Cons:
The price is too high
It is not insulated at all
You can only bring one meal in it
Conclusion
So, there you have it; those are some of the best nurse lunch bags you can get, and you should now be able to find the best one for you. It might not even be on this list, but you should now know what to look for.
If you have any advice to offer or you just have further questions, you shouldn't hesitate to contact me through the comments below the article. I might be able to help you.
Anyway, I hope you enjoyed the article and good luck nursing until the next one!