To everyone else, a watch is nothing more than an accessory, but nurses would be lost without them – keeping track of time play a huge, and not to mention a vital role in patient care. Plus, at the end of the day, when you're beyond tired, just glancing at your watch to see how much time is left until your shift ends can help you push forward.
Not every watch is suitable for the job, though, which is why I'm dedicating today's article to helping you find the best watches for nurses.
Let's get started!
Why's It So Important For A Nurse To Have A Watch?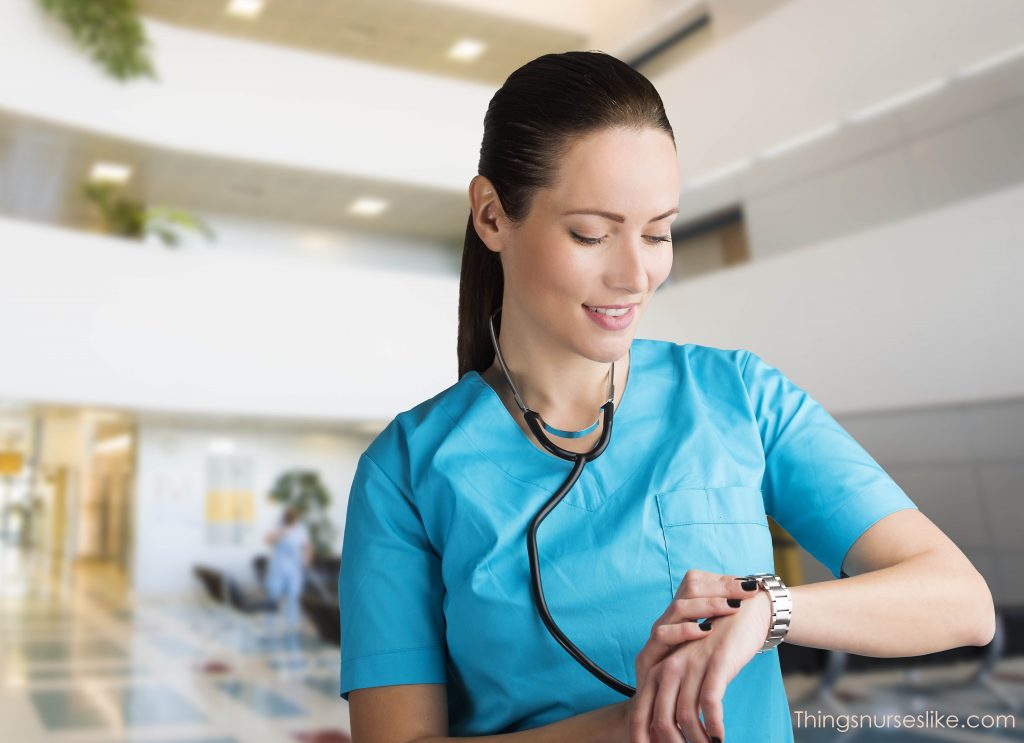 As you already know, there are plenty of work-related activities you're in charge of that do require you to keep track of time. Here are a few of those tasks, to remind you why the best watches for nurses are a necessity:
Tracking And Recording Vitals
One of the surest ways to learn more about your patient's health status is to track (and record) their vitals, such as apical pulse rates, and respiratory rate. And guess what you'll need if you want to keep a close eye on your patient's stats?
That's right – a watch!
What's important here is that you either get a digital watch that counts seconds, or an analog one with a second hand – it's up to you, as long as there's a way for you to accurately track time, and get a better assessment of your patient's condition.
And speaking of tracking your patient's vitals, check out the best blood pressure monitors for the job!
Administering Medication According To Schedule
One of your duties, as a nurse, is to deliver medications to patients according to their prescribed schedule, right? Well, doesn't it make sense, then, that you have a watch on you at all times – possibly one with an alarm?
Keeping track of scheduled medication begins with keeping track of time!
Documentation And Lab Charts
Every single interaction you or any other member of the medical personnel have with the patient – be it a form of test, treatment, or some assessments – has to be noted in the patient's chart. Any future interaction with the patient depends on (and counts on) the accuracy of these recordings.
Plus, keeping track of their recovery and progress makes it ten times easier to have a better understanding of their health, and decide on the further course of treatment.
That said, I think it's pretty clear why a watch should be an essential part of your equipment, too. I mean, yes, you could use the clock on the wall as a way of time for these purposes, but everything else we've talked about does, in fact, require you to wear a watch.
Lastly, It Helps Track Time
Okay, I admit it, this is a pretty obvious one – but that doesn't make it any less valid than the previously mentioned benefits of owning a watch as a nurse.
And yes, hospitals are full of clocks, but do you want to waste time looking for one or trying to squint enough to read the time?
Of course, not – you have better things to do!
Plus, even when things get hectic – and they will – a quick glance at your wrist will help you get a precise sense of time.
How To Choose The Best Watch For Nurses: The Ultimate Buying Guide
When you first start searching for the best watches for nurses, things will get a bit confusing.
Why can't I pick any watch?
Well, because you can't – but don't worry, I'm going to help you make the right choice!
Materials
Yes, leather sounds luxurious, but is it practical?
That's the type of questions you should ask yourself when you're picking materials – you need something that dries quickly, doesn't rust, and is easy to clean. Think resin, silicone, rubber – those should be your go-to materials. Metal links could work, too, as long as they're on a lapel watch, and not your wrist.
Water-Resistant
You need a watch that will still function correctly after you accidentally get it wet while washing your hands. And let's face it – there's going to be plenty of such occasions.
And no, taking your watch off every time you plan on washing your hands is not an option – what's the point of washing your hands, if you'll touch the clock afterward, anyway?
Easy To Clean
And since you're already washing your hands all the time, it makes sense your watch gets the same treatment, right?
I mean, you and I both know that there's is no way you (and your watch) won't come in contact with all sorts of bodily fluids – that's a routine part of a work day for nurses around the globe.
That's why it's vital that your watch can be adequately cleaned without too much hassle. You should be able to wipe it down with alcohol and go about your day, without worrying about affecting its functionality or looks.
Backlight
There are no ifs or buts about it – you have to be able to check your watch even in low light conditions, as well as entirely dark rooms. Here's why:
Sometimes you'll have to check in on patients in the middle of the night, and don't you think it would be a bit rude to wake them up by turning on the lights? Plus, sometimes postoperative patients have to stay in dark rooms, and again, that shouldn't stop you from doing your job.
Affordable
Ah, the all-important question:
How much should I spend on a medical watch?
The great thing is that the answer never changes:
It depends.
You can find a pretty decent watch for the job somewhere in the 20 to 30 dollars range. That said, going over the 50 bucks limit does ensure you get some additional features – but that still doesn't mean that more expensive equals better.
I'd instead buy cheap watches that can be easily replaced, than to get an expensive one, and worry about breaking or losing it all the time, you know?
Best Watches For Nurses: My Top 5 Recommendations & Reviews
Now, let's take a look at what the market has to offer – 5 of the best watches for nurses are waiting for you below!
1. WIOR Nurse Lapel Pin Watch  (A Classic Look – Even In Scrubs)
If you decided bulky wristwatches are just not your thing, then you should seriously consider getting yourself Wior lapel pin watch. That way, you won't have to deal with tight wristbands, but you'll still have an easily accessible watch, and a sure way of telling time whenever the need arises.
Just pin one of these on your scrubs, and you'll instantly achieve a more classic look. Give it a try – I'm sure everyone at work will compliment you!
Most importantly, though, the watch is pretty easy to read (plus, it has a 24-hour military format), and water-resistant. I mean, you won't be able to go swimming with it, but it will survive to get wet on a daily basis.
That said, there are two things I noticed – and didn't like – about the watch. First off, the pins are not nearly as sharp as they should be. Sometimes, even just putting the watch on can be a struggle, since the pin won't go through the fabric.
And when you do manage to attach it on, you'll be met with its weight – you'll feel like it's always pulling on your scrubs. It's not a big issue, though.
Pros:
It will give you a classy look
Easy to read and keep track of time
Water-resistant (to a degree)
Available in silver, gold, and rose gold version
Super affordable
Suitable for both men and women
Cons:
Feels a bit heavy
The pin isn't sharp enough
2. Timex Women's Weekender 31mm Watch (Keeping A Low Profile)
If you're all about keeping a low profile, but at the same time, you don't want to sacrifice any of the visibility, then the Timex Weekender might be the best watch for you – both in and out of your workplace.
The large, white, dial comes paired with white nylon slip-thru straps, but the options don't end there – you have a wide range of belts to choose from, so that you can always have your watch match the rest of your outfit (if you're the type of person that cares about that stuff, that is).
Oh, and did I forget to mention the dial lights up in the dark, too?
However, there are a few things I didn't like, too. For instance, the large dial feels as much as a downside, as it is an advantage, and some of you might find it too heavy. Furthermore, I feel like the white nylon straps aren't the best choice for nurses – they get dirty way too quickly!
Lastly, the watch requires to be adjusted every couple of months, which is not that big of an issue, but it's still annoying. I guess I just expected it to have a bit more accuracy, that's all.
Pros:
Plenty of different slip-thru straps to choose from
Nylon straps are washable
24-hour military time format
Water-resistant to 100 feet
Cons:
Massive (and bulky) watch face
Has to be adjusted every few months
The white belt gets dirty easily
3. Casio Women's LRW200H-7BVCF Watch (Basic & Affordable)
The next model on my list is a pretty basic one by the Japanese company Casio – an all-white analog watch with quartz movement. So, nothing out of the ordinary – until you start paying attention to details.
First off, there's the round dial with multi-colored hour markets. If you look closer, though, and you'll notice it has the 24-hour indices, a bi-directional bezel, and a dedicated date window.
One of its most famous features has to be the exceptional water resistance that goes up (or down, actually) to 330 feet, which means washing your hands with the watch still on won't be an issue, at all. Most importantly, though, you can help patients going through physical therapy in a pool, too.
And while this Casio model is an excellent one, it's not without its drawbacks. The resin band, for example, seems to be a bit too short – and that's coming from someone who is considered to have tiny wrists.
Also, while I love the stark whiteness of the watch, the amount of color this thing picks up from clothing is unbelievable. So, if your scrubs are typically blue, know that it won't be long before the clock changes its color to blue, too.
Pros:
Uses a 24-hour format
Features a bi-directional bezel
Easy to read
Water-resistant up to 330 feet
Molded resin straps with a buckle closure
Features a date window, too
Cons:
It picks up color from your clothes
The band seems to be a bit short
4. Nurse Mates Women's Uni-Watch (One Continuous Piece)
The next one in my round-up of the best watches for nurses pretty much checks all the required boxes – it's comfortable, it's water-resistant, the readability is excellent, plus it's reasonably priced. What more could you ask for?
The band is made from a super soft, almost butter-like silicone, which makes wearing the watch a pleasure, but, more importantly, the silicone surrounds the watch case in an uninterrupted manner. That way, not only does it achieve a smooth, continuous look, but it helps keep the watch cleaner, too – there's less space available for germs and dirt.
As I already pointed out, thanks to a reasonably large dial, the watch has excellent readability, even in low light conditions. The 24-hour markers located beside the 12-hour ones, which gives you the chance to calculate military time whenever the need arises.
And I can't get over how cute the electrocardiograph heart design looks!
The only "downside" to this watch is that the choice of colors of very limited, and I'm talking "two colors available max" level of limited. I know that's not even a big issue – or a real one, for that matter – but honestly, I wish I could have one of these in every color, so I am bummed out that's not an option.
Pros:
24-hour military time format
Large hour markers
Water-resistant construction
Very comfortable silicone wristband
Smooth, continuous look
Electrocardiogram heart design fits the theme
Feels durable, yet lightweight
Large face improves visibility
Cons:
It's only available in two basic colors
5. Pebble Time Smartwatch (The Upgrade Choice)
You find all these watches cute, but you wanted to see something a bit techier? No problem, I have something for you, too – the Pebble Time smartwatch.
Okay, let's start by checking out the more gadgety features first. For instance, the watch allows you to take a glance at your notifications, and thanks to the built-in microphone come to play – you can use it to send voice replies! Amazing, right?
Now, as a nurse, I know you'll much appreciate the microphone for an entirely different reason – it will give you a chance to record short voice notes. That way, you don't have to worry about anything patient-related escaping your mind.
And speaking of patients, tracking vitals with a digital watch has never been easier – the Pebble Time smartwatch leaves you the option of turning on the additional second's hand when the need arises.
Furthermore, the watch has a vibrating motor, too, which brings alarms to a whole new level.
However, the watch doesn't have a heart rate monitor. I know this might be a deal breaker for some of you, but ask yourself this:
Is it that big of a deal?
Pros:
Has the option to turn on the second's hand
Features a built-in microphone
Water-resistant to 30 meters
Up to a week of battery life
Uses vibration as an alarm
Built-in Pebble Health helps track activity and sleep
Affordable
Cons:
Doesn't have a heart rate monitor
Final Thoughts
Okay, it's time to announce the winner of the round-up! Now, don't get me wrong, each of these models deserves to be called one of the best watches for nurses – they all have their advantages, and the features that make them unique. However, there can only be one winner, and this time, it's the Nurse Mates Women's Uni-Watch.
Would you agree with my choice, or do you have another model on your mind? Let me know in the comments below