Being a medical nurse is not an easy job. Such career comes with tremendous responsibility and requires even bigger devotion. Working shift of a registered nurse is usually eight, ten or twelve hours long and this doesn't include voluntary or mandatory overtime.  This means average nurse will spend forty or more hours a week on her feet.
For that reason, it is important for a nurse to have comfortable, high-quality nursing shoes. Shoes become even more essential part of their equipment if the nurse is suffering from plantar fasciitis. Unfortunately, this is not an uncommon case with medical professionals who spend the majority of their time standing or walking.
We are here today, to present you the best shoes for nurses that can help relieve the pain and prevent the further progress of plantar fasciitis.
What is Plantar Fasciitis?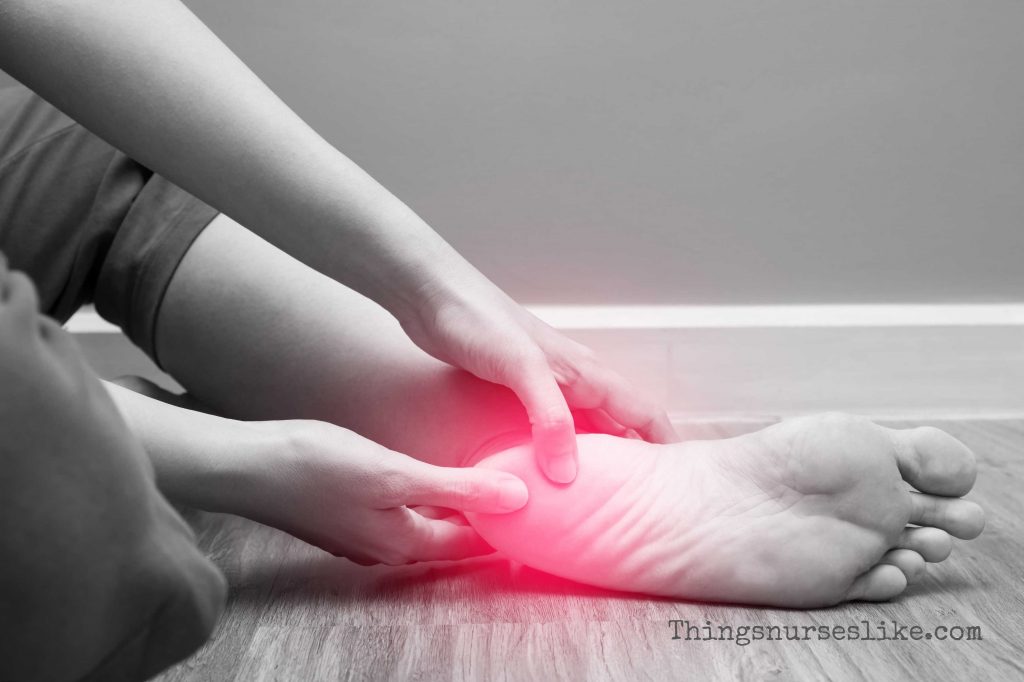 Plantar fasciitis is a medical condition that is considered to be one of the most common causes of heel pain. It involves inflammation of "fascia" – a thick, fibrous band of tissue that reaches form your heel to toes, runs across the foot bottom and supports the arch and the muscles of the foot.
This condition usually causes stabbing pain that often occurs as the person takes her first steps in the morning. Once you get up your muscles get moving, the ache decreases, but it returns after prolonged periods of standing or the moment you rise from sitting. Both of these situations are a regular part of nurse's workday, which is one of the reasons why we have to pay particular attention to adequate footwear in these conditions.
How to recognize Plantar Fasciitis?
If you feel stabbing pain near your heel, in the bottom of your foot, you might be suffering from   plantar fasciitis. As we already mentioned, it is expected for this sort of a pain to be the worst in the morning, right after waking up, as you take your first steps, but you will also notice it after long periods of standing, walking or when you stand up after sitting.
The pain will usually get worse after the certain exercise, not during it, which means it will occur around the end of nurse's shift, or during the lunch pause and so on. Anyone who decides to ignore plantar fasciitis is at risk of developing chronic heel pain that affects their daily activities. Adjusting the way you step and walk to avoid or minimize plantar fasciitis pain might seem to work at first, but in the end, it will lead to further foot, knee, hip and back problems.
What causes Plantar Fasciitis?
In a healthy foot, plantar fascia has a role of the shock-absorbing bowstring. It supports the arch of your foot. However, when tension and stress (due to excessive exercise, standing, and walking) on fascia becomes too great, small tears start to appear. Continuous stretching and tearing that happens on a daily basis in nurse's foot, causes the plantar fascia to become inflamed or irritated.
Although plantar fasciitis often starts without an explicable cause, some risk factors can contribute to developing plantar fasciitis. Here's the list:
Age – Plantar fasciitis is most common in people aged between 40 and 60.
Certain kinds of exercise – Activities that put a lot of pressure on your heel and plantar fascia (aerobic exercises, ballet dancing, ballistic jumping activities and long-distance running) can lead to an early onset of the condition.
A certain type of footwear – Wearing worn-out shoes, high-heeled ones and the ones with thin soles might cause the same problem.
Foot mechanics – Flat-feet, high arches, tight heel cords, unusual foot position or even pattern of walking – any of these things can place additional stress on your plantar fascia and cause fasciitis.
Obesity – Excess pounds put extra weight on your feet and therefore endanger your plantar fascia.
Professions that keep you on your feet – Nurses, teachers, hairdressers, factory workers, and other professionals who spend the majority of their work hours standing or walking on hard surfaces are in risk of damaging their plantar fascia.
How to Prevent and Treat Plantar Fasciitis?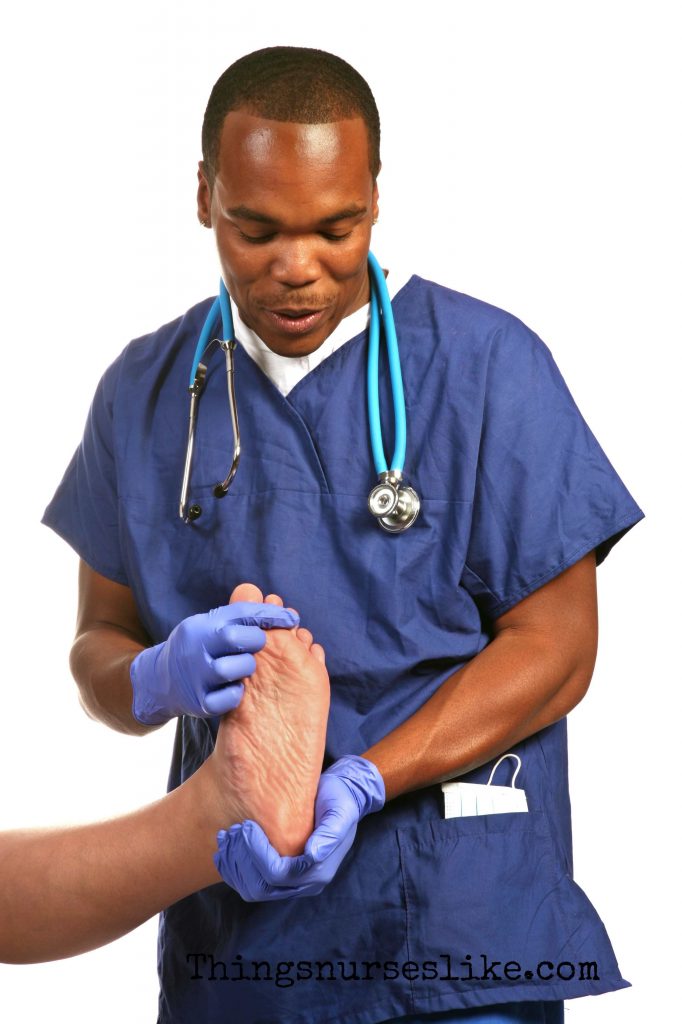 With plantar fasciitis, just like in case of any other medical condition or disease, prevention is
better than cure. This especially goes for nurses, who are well aware of the risk and recommended treatments for plantar fasciitis so that they can take safety precautions in advance.
Appropriate shoes are the best prevention.
Plantar fasciitis is common in runners, which tells us that repetitive trauma might be the cause of the tears in the soft tissue. Interestingly, nurses suffer from the same problem even though they are not literally running through the hospital halls but there is still a lot of pressure on their feet. This issue has been familiar to field experts for many years, which is why they developed adequate nursing shoes which could prevent the pain.
These shoes are cushioned and soft, and they provide a lot of support to the feet. This goes especially for heel and arch support because these are the spots of the highest impact. However, some nurses still decide to go with regular shoes and buy orthotics to provide support and prevent plantar fasciitis this way. If you choose using orthotics instead of appropriate nursing shoes, you should at least have a podiatrist create a custom orthotic for your foot.
Treatment for Plantar Fasciitis
Sometimes, even the nurses who had done everything to prevent this condition still tear their plantar fascia during long work hours. In this case, they have a number of treatment options to consider:
Orthotics – Orthotics come as the second line of prevention and the first line of treatment. The goal is to offer the best possible heel and arch support to the feet. At this point, the inserts are most commonly customized to fit person's feet specifically.  The orthotics you can get over the counter might do you some good during the prevention, but they are not as useful when it comes to actual treatment.
Splints – Splints are the devices that will hold your foot at a flexed angle. This position is supposed to take the pressure off the tears in the plantar fascia. People usually wear these splints at night in addition to orthotics mentioned above. A podiatrist typically recommends the combination of these two measures before proceeding to any invasive actions.
Cortisone – When both orthotics and splints fail, and the pain is still present, doctors will prescribe cortisone shots directly into the heel. This might be uncomfortable at first, but it does reduce the pain significantly, especially when combined with previous two treatments.
Surgery – The last option in plantar fasciitis treatment is surgery that releases the plantar fascia. It is performed very rarely because it affects the normal function of the foot. However, it is sometimes necessary for extremely resistant cases of plantar fasciitis.
What to Look for in Nursing Shoes for Plantar Fasciitis?
Now that we've covered everything you need to know about plantar fasciitis, its prevention, and treatment, we can proceed to tips and tricks that will help you choose the best nursing shoes for plantar fasciitis. Remember, these shoes need to be comfortable, suitable for someone who stands or walks a lot around the hospital and even runs from time to time. At the same time, they need to offer enough support to prevent the pain and further deterioration of the tissue. So, here's what you should pay attention to:
Motion Control
Plantar fasciitis requires motion control. This is especially important if it comes in combination with flat feet. Shoes that offer good motion control come with three principal characteristics – they are durable, rigid, and they prevent over-pronation. They also have elevated parts, so the foot is realigned with the rest of the body in a healthy, natural condition.
However, motion control shoes should also provide comfort and stability. As you will be walking a lot, it is vital that the midsole is shock absorbent. The best ones will usually be made of leather, rubber or combination of both.
Adequate Arch Support
No matter if you are using orthotic or not, excellent arch support is an absolute necessity in all plantar fasciitis shoes. Proper arch support reduces the stress placed on the ligaments. More stress causes more pain and further deterioration, which means proper support is crucial. Also, if you are working in ER or anywhere else where you are required to react quickly and run from time to time, make sure to choose shoes that have the padding in the front portion as well.
Heel Support
Cushions should support the heel for better comfort and pain relief. Also, in no conditions is heel allowed to slip up and down or back and forth, it needs to be stable. Make sure that your heel is well contoured by the shoe.
Removable Insoles
Both orthotics that are customized for your feet, and the insoles that come with the shoes, need to be removable. You'll need to be able to change them after they get worn out, or if the requirements of your condition change. If you can't remove the insoles and replace them with new ones, the whole shoe will become useless.
Slip Resistance
We already mentioned how stability and motion control is important for plantar fasciitis. Slip resistance feature and good grip can help keep you safe around different spills and liquids that are common in hospitals and similar environments.
Lightweight
Ideal nursing shoes for plantar fasciitis should be lightweight, so they don't put additional pressure on feet and cause fatigue, affecting your productivity and work performance.
A few more tips for the best purchase:
Try the shoes on. If they don't feel good and comfortable the first time you wear them, keep looking. You should not wait to break into them; they could become worse.
The best time to go for plantar fasciitis shoe shopping is in the evening, after a whole day of work. This way your feet will expand, and you'll know what size you need when your feet are swollen.
​The toe box needs to be wide enough, or it won't complement the natural foot position.
The Top 5 Shoes for Nurses with Plantar Fasciitis
Here's the selection of the best shoes for nurses with plantar fasciitis in 2018:
Skechers Loving Life Memory Foam Fashion Sneaker
Nurses who prefer to combine comfort, sporty style and fashion will be glad to read more about Skechers Loving Life sneakers. At the same time, these cute slip-on shoes offer cushioning, memory foam and an excellent rubber outsole that could be beneficial for anyone dealing with plantar fasciitis. This affordable model has an upper constructed from soft and breathable mesh fabric, while the sole is made of rubber material making it durable and shock absorbing.
The first time you try this model on, the insole might seem a little stiff, but as soon as you start walking the memory foam will change its shape and contour your leg perfectly. This feature is great for nurses dealing with long shifts and plantar fasciitis related pains. Arch support is on point with these sneakers because of the flex groove outsole, and at the same time they offer great air ventilation. At last, after you've done a few shifts you can throw them in a washing machine, and they will be good as new.
Although the slip-on feature is excellent for a nurse in a rush, and bungee cords look more attractive than laces, this limits your possibility to tighten the sneakers up. However, the sizing for Skechers shoe is not quite right, so make sure to go at least half a number bigger, than you would regularly do. Be aware that these shoes are quite narrow and they won't fit people with wider feet.
Pros
The memory foam contours to the food nicely.
They are lightweight and comfortable.
They offer excellent arch support.
You can clean them in the washing machine.
The air circulation is just right.
Cons
They lack heel support.
The sizing isn't exactly right.
They won't fit people with wide feet.
They have bungee cords instead of laces.
Score: 78/100
Alegria Women's Debra Slip-On
You might spend a few more bucks on Alegria's Debra slip-ons, but you will get great nursing shoes, made from stain-resistant leather. Being lightweight and offering high comfort with an outsole that guarantees good stability these shoes are a prominent competitor in our race. You can pick among various designs and styles and get rid of the pain at the same time.
You already know that plantar fasciitis calls for adequate arch support and the possibility of adding orthotic inserts. This is exactly what Alegria Debra offers. This shoe is well-made and sturdy, and it might serve you right for many years. It reduces the pain significantly, and it comes with extra cushioning around the heel to prevent slipping and blisters. Thick soles will offer you motion control and stability.
However, you should be aware that these shoes are not ideal. They stretch out as you wear them which means at some point, they could start slipping off your feet. Even though you can choose among many colorful designs, you will notice they are a little old-fashioned.  Also, if you are a fashionable nurse who likes to have a few pairs of work shoes to match her uniform, you should know that Alegria's models are a bit expensive. If you wear these with socks, they might be too tight and cause pains after all.
Pros
They have excellent arch support.
They are well-made and sturdy.
They reduce the pain significantly.
Extra cushion around the heel prevents blisters.
They have thick soles and removable footbed.
Cons
They stretch out a little bit as you wear them.
The design is a little old-fashioned.
They are a little expensive.
If you wear them with a sock, they might be too tight.
Score: 100/100
Alegria Women's Keli Professional Shoe
Alegria Keli Professional work shoes are well suited for nurses who spend all day pacing around hospital halls while having problems with their feet at the same time. Just like in case of the previous model, you'll have to set aside a little more money to buy these shoes, but a removable footbed made of cork, latex and memory foam will make it worth it. It offers ultimate support and comfort. Keli Professional are also made of leather and have a slip-resistant polyurethane sole.
Alegria's shoes are lightweight and comfortable, with only 1.5 inches high heel, which makes them plantar fasciitis friendly. Also, the outsole design guards not only against slips but also serves as a shock absorber. The slip-on style will help you jump in and out of these within seconds, while the good ventilation will prevent your feet from sweating. At last, supporting insoles are replaceable, and you can choose the width of the shoe, so it fits your foot perfectly.
However, your heel might slip in and out of these, which is not very practical for a nurse in a hurry.  Even though this model offers fair motion control, it might be a little stiffer than it should. At the same time, the seams on these shoes are rough, which might cause blisters and general discomfort. The price of Keli Professionals is a bit higher than the average.
Pros
They are incredibly comfortable and lightweight.
You can replace the insoles once you wear them out.
Your feet won't sweat in them.
You can choose the width that fits you.
hey are shock absorbing, with excellent arch support.
Cons
Your heel might slide up and down a little.
They are a tad pricey.
They might be too stiff for you.
They come with rough seams.
Score: 94/100
Nurse Mates Women's Dove
Nurse Mates Dove's are the only shoes from this batch explicitly made for nurses, while at the same time they are suitable for anyone dealing with plantar fasciitis and recommended by medical professionals for this purpose. Nurse Mates offer fantastic support for feet and body, they are comfortable, and their steel shank provides you with stability and safer walk. Their leather stain-resistant surface is another feature which makes them exceptional.
When it comes to supporting, this shoe has it all – cushioned insole, upper foot and padded collar; everything is here. Steel shanks take care of lateral stability and along with the comfort that is all you need to get a fair quality, plantar fasciitis friendly shoe.  They come with removable footbeds and stain-resistant finish that makes washing away blood and other liquids much easier. The outer sole is slip-resistant as well, which means you can run around the halls without worrying you'll slip and fall.
However, the toe part of Nurse Mate Dove might be too stiff or tight for you, which is not suitable for nurses suffering from plantar fasciitis. Also, the arch support, though existing, is not the best one you can find. Ventilation is a significant problem; your feet will probably end up sweating which might cause moist blisters. At last, these shoes are not very durable which can be a problem, especially when you consider the fact that they are more expensive than average.
Pros
They are designed specifically for nurses.
They come with a stain-resistant finish.
Steel shanks offer lateral stability while walking.
They are comfortable with removable footbed.
They are slip on, and they look professional.
Cons
The top might be too stiff and tight for some users.
The arch support is not the best.
Ventilation is a bit problematic.
They are not durable enough.
Score: 83/100
Klogs USA Women's Naples Mule
Here comes another brand, widely popular among nurses and plantar fasciitis patients – Klog! Their Naples Mule model is completely made of leather and comes with a slip-resistant outsole. Even though the price is a bit high, it offers comfort, flexibility and great support for your arch, muscles, and ligaments. The toe box is appropriately wide, and you can choose among a variety of colors and patterns that will make your work outfit pop up.
As the insoles are removable, you can efficiently use your orthotics with these shoes. Anti-slip outsoles will ensure you are safe and stable while you work. As we already mentioned, excellent arch support and comfort are provided by the shoe design and the materials they are made of. At the same time, there is enough room for your toes, so they could be comfortable even when your feet swell after a long shift. The height of the heel is perfect to help your posture, and the elastic part of the shoe makes it fit better.
However, this model can be a little stiff, and most people need some time to break into it, which is not ideal for plantar fasciitis. Also, shoes are slippery on wet surfaces, which can be tricky for nurses, because liquids are often spilled and stepping on wet floors is something that happens on a daily basis. The elastic gets sloppy over time, and the pattern sometimes starts chipping off.
Pros
They come with anti-slip outsoles.
They provide excellent comfort and arch support.
Toes have enough room.
The heel height is perfect.
The elastic helps the shoe fit better on top.
Cons
You'll probably need some time to break into them.
They are a bit slippery on wet surfaces.
The elastic might get a bit sloppy with time.
The pattern might start chipping off.
Score: 89/100
Conclusion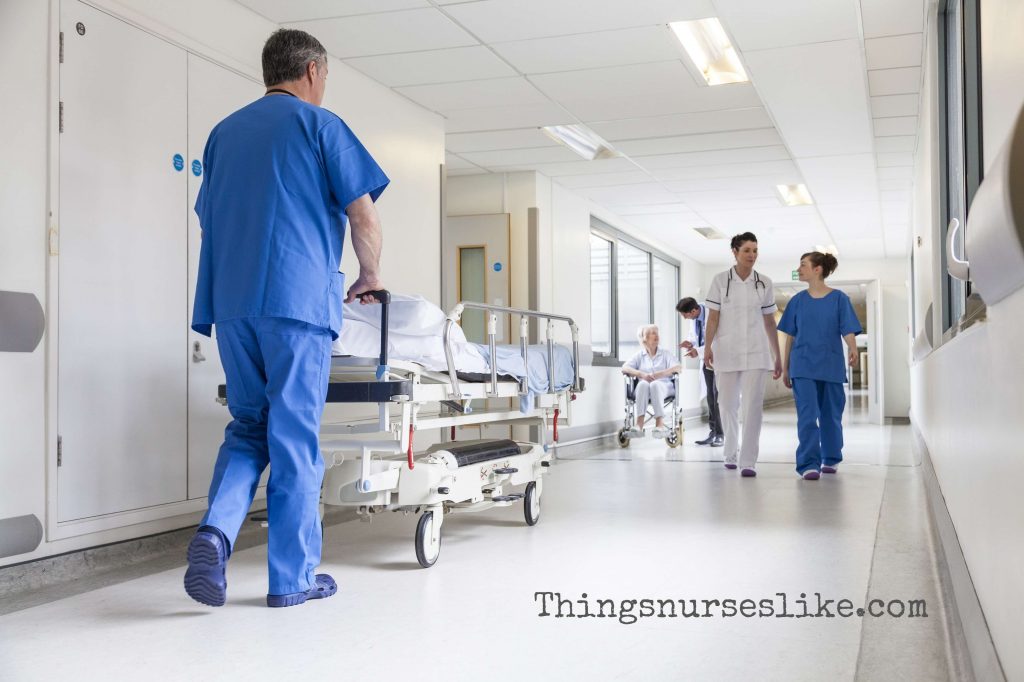 After careful consideration of all five models, the title of the best nursing shoes for plantar fasciitis goes to Alegria Women's Debra Slip-On. Even though they might look a little bit old-fashioned, this is the only model from this group that matches all of the criteria for good plantar fasciitis nurse shoes we listed above. Arch and heel support is impeccable, they are comfortable, and they have removable insoles.
Whichever shoes you choose, make sure to try them on before you make a purchase, and remember, investing a few more bucks in your health pays off!
Further reading : How to Choose The Best Golf Shoes For Plantar Fasciitis