There's a widespread misbelief among medical professionals that says you should train your ear to work with a poor quality stethoscope, and once you've mastered the skill, buy a better one that offers high-quality sounds. Sometimes, it seems like healthcare institutions have decided to adopt this policy. Costs are cut on every corner, and nurses often must deal with poor quality equipment.
Unfortunately, when you learn to work with a flimsy stethoscope, it affects your productivity, skill and the wellbeing of your patients. You can easily face the similar problem as trying to locate the vein in some sorts of patient without an advanced vein finder. Nurses who have never used a high-quality stethoscope will never hear and learn how different heart or lung conditions sound and therefore, they will risk missing those signs once they come in touch with patients who suffer from them. 
It is nurse's personal responsibility not to let inadequate quality equipment hamper their work.
For that reason, every nurse should invest in their own quality stethoscope. We are here today to help you find the right one for yourself. We will start by providing you with information on how to choose the best stethoscope for nurses, and then we'll present the top five stethoscopes you can find on the market today.
What is the difference between nurse's and doctor's stethoscope?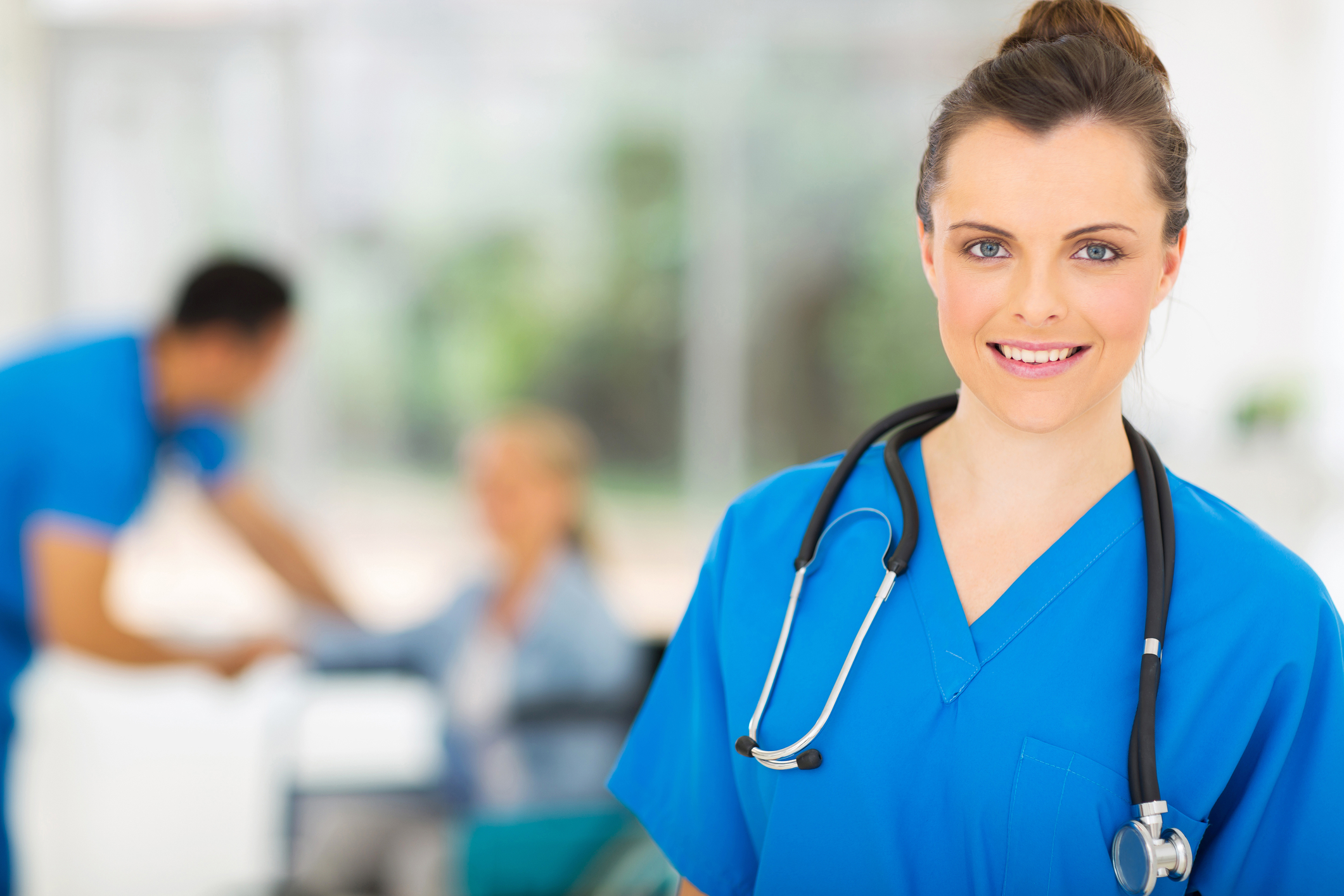 In the past few years, the topic of nurse's vs. doctor's stethoscope and the difference between the two, had been discussed on numerous occasions. The answer to this dilemma is quite simple – no, there are no "nurse's" and doctor's stethoscopes. The stethoscope is one piece of equipment which fits all medical professionals who know how to use it.
However, there is some difference in which qualities and characteristics of stethoscopes matter the most to nurses and doctors. Nurses will emphasize durability and amplification because they often work in a hurry, with tens or hundreds of patients daily and perform triage or brief screenings. Checking pulse, breathing, and heart rate are the part of nurse's diagnostic routine. If you are an ER nurse, durability is an absolute necessity, because the constant movement tends to damage poor-quality stethoscopes.
On the other hand, the doctor will focus on sensitivity, accuracy, amplification, noise reduction and cost, as they need to perform detailed diagnostics. Doctors will often go with high tech solutions or the basic ones but with enhanced amplification, while nurses will make sure their equipment is reliable and sturdy. In the same manner, the discipline of a physician has a great role too. Cardiologist, pulmonologist, and pediatrician will all go with different stethoscopes.
Nurses, on the other hand often change wards and encounter both adult patients and children with different symptoms, which means their stethoscope needs to be versatile.
Picking out the right stethoscopes for yourself is always a tough process. If you decide to limit your choice to strictly "nurses'" stethoscopes, you will only complicate your problem further. So, be open-minded, don't listen to people who say nurse don't have the right to use the doctor's equipment and chose the model that suits your needs the best and helps you provide the best possible care.
What Makes A Quality Stethoscope?
Before we dive into the details and features of different models, you should learn more about what makes a good stethoscope. We will go step by step and cover all of the stethoscope's parts, so you could know what to look for before you make a purchase.
These are the essential components of every good stethoscope:
1. Diaphragm
The diaphragm is the crucial part of the stethoscope, as it makes contact with patient's skin. This piece is responsible for isolating and transmitting the sound of the heartbeat, blood-flow or lungs through the tubing and into the earpiece.
Most commonly, the diaphragm is made of plastic, stainless steel, and aluminum. Also, it may include a bell.
While lower quality stethoscopes are usually made of plastic, and they have a no-chill feature, they detect only the basic sounds. On the other hand, steel and aluminum stethoscopes offer better sound quality and allow nurses and doctors to listen to less apparent sounds.
2. Earpiece
When it comes to choosing a good stethoscope based on the quality of its earpiece, there are two things you should pay attention to – sound isolation and comfort.
The primary role of an earpiece is to block out all of the noises from your surroundings that might interfere with your diagnostic process. This way, the earpiece maximizes your ability to hear the heartbeat and other health signals. Other than that, earpiece needs to be comfortable which means it can't push into your ear too hard nor fall out.
In fact, you can buy high-quality earpieces made of different materials, in various sizes, separately from the stethoscope.
3. Tubing
A thick, high-quality tubing is supposed to help isolate the sounds that travel through the stethoscope. This way, it ensures minimal sound quality loss while the patient's pulse, heartbeat or lung sound travels from the diaphragm to the earpiece.
Thickness and sturdiness of tubing is not the only property you should pay attention to. The tube needs to have a decent length as well. This will give you a chance to observe your patient's behavior, as you check their heartbeat or listen to their breathing. At the same time, proper length ensures you can maintain optimal distance, that is comfortable for both you and your patient and makes communication as natural as possible.
Long story short, these components should be the part of your future stethoscope:
Diaphragm (with or without bell) that can be adjusted according to your needs,

High-quality, stain-resistant tubing that is long enough and isolates sound well,

Dual lumen design (significantly improves sound quality in comparison to single-lumen)

,

Comfortable earpiece that fits your ears,

Durability,

Lightweight design.
How to choose the right nurse stethoscope?
Once you are well aware of the previously mentioned features, regarding the stethoscope's sensitivity, sound isolation, ergonomic design, ear comfort, sturdiness and durability you should also consider your personal preferences and needs. Price range, weight and the possibility of you losing the stethoscope are some of the factors you should count on while making a decision. The best model for you is not necessarily the best one on the market, but the one that perfectly fits into your average workday.
To form a general idea of which stethoscope to purchase, answer these questions:
Do you have a problem with losing or misplacing your stethoscope on a daily basis?
If you catch yourself searching for your stethoscope more often than using it or knowing exactly where it is, it might be a good idea to steer away from the high-end stethoscopes. High-quality models usually come with a high price, and if you need to buy a new one every month or two, you will soon start wondering where did your salary disappear.
Fortunately, you can find excellent stethoscopes in the price range of 30 to 50 dollars, this way losing one won't be such a painful experience. You can also use a disposable stethoscope if they are offered in your health care center. In this case, make sure to purchase high-quality ear tips and use them for better sound isolation and comfort.
How much money are you ready to invest in this piece of equipment?
If you take meticulous care of your stethoscope and you always know where it is, we can talk about different price ranges and investing in expensive, high-quality models. If you don't have enough money at the time, or you don't want to spend a hundred bucks on a stethoscope, you will still find decent ones that cost only 25–40 dollars.
Stethoscopes from this price range often come with excellent sound quality, weight, length, and comfort, but they are usually less durable, which means you will probably need to make another purchase sooner than you expect. For that reason, it is always a good idea to consider saving up some money and investing in a high-end stethoscope, especially if you use it on a daily basis.
Higher priced models are usually made of stainless steel, and they come with a better warranty, which makes their components last longer and save you money in the long run. If you decide to invest in this kind of medical luxury, go with the stethoscopes that have a replaceable diaphragm and other parts. This way, even if they break, it is less expensive to buy replacements than to purchase a new stethoscope.
Do you care about the stethoscope's weight?
If you are working long, eight to twelve-hour shifts or you have any problem with your neck or back, take the weight of the stethoscope in careful consideration. Wearing a heavy model around your neck all day can be a bigger problem than it seems. It can irritate your neck and shoulders and even cause headaches.  Durable, yet lightweight stethoscopes will cost you a little extra cash.
Is sound sensitivity a critical feature to your everyday duties?
If you absolutely need to hear sounds clearly, as cardiology or pulmonology nurses do, then you should invest in an expensive, high-quality stethoscope. Pricey models usually offer superior sound isolation.
If you have any difficulty hearing, you should pick a professional stethoscope that has a steel or aluminum diaphragm and high-quality rubber tubing.
Top 5 Stethoscopes for Nurses on the Market
3M Littmann Classic III Stethoscope
If you are looking for a high-quality stethoscope, from a well-known brand with an acceptable price, Litmann's Classic III stethoscope might be your way to go. This product is available in a wide range of colors, so you can choose a look that suits your personality. Two-sided, tunable chest piece diaphragm alongside with a pediatric diaphragm will offer you a chance to examine both adults and children thoroughly. The tubing is made of oil-resistant rubber, and the whole stethoscope is very lightweight.
The most significant advantage of this product is a combination of reliable acoustic sensitivity and simplicity of usage. It's also incredibly versatile, as it allows you to switch it from an adult to a pediatric stethoscope quickly. It is easy to clean and maintain, as lint and hair don't stick to it, while at the same time it is stain-resistant. Most importantly, it is sturdy and durable, and even with everyday use, it doesn't wear down.
Unfortunately, this stethoscope has its flaws. The tubing might be too short for you if you like to keep the distance from your patients. At the same time, it is on the thinner side, which means it doesn't isolate excess sounds very well. You should be aware that ear tips on this product might be too big for your ears, which makes them uncomfortable and decreases your ability to hear the sounds clearly.
Pros
It offers excellent sound quality.

You can convert it from regular to the pediatric stethoscope.

Lint and hairs don't stick to the tubing.

It is sturdy and durable.

It is easy to clean.
Cons
The colors of the product are rarely matching the colors on the picture.

Tubing might be too thin or short for you.

Ear tips might be too big for your ear canals.

Diaphragm might come off.
Score: 92/100
3M Littmann Master Cardiology Stethoscope
Nurses looking for impeccable acoustics already know they should purchase stethoscopes specially designed for cardiology. The 3M Littman Master Cardiology stethoscope is an excellent example of this group. For the money you invest in it, you will get a double lumen which eliminates noise interference, high-quality chest piece, tunable diaphragm and special procedures adaptor that allows you to use it for pediatric patients as well. Also, this product comes in various colors, and it is designed to suit you anatomically.
As we already mentioned, cardiology stethoscope will offer you excellent acoustics with minimal interference. At the same time, the tubing is long enough to provide better distance, when you need to examine patients who potentially have contagious diseases. The stethoscope is easy to clean, durable and versatile, so you shouldn't worry about its price. At last, it comes with 7-year warranty.
However, it is expensive; it's a fact. For a nurse, whose stethoscope often gets stolen or lost in the hospital rush, this might be a problem. At the same time, it is heavier than you would expect, which might be inconvenient when you have to work long shifts. It does amplify heart sounds, but this decreases its efficiency in pediatric patients, especially newborns and babies. Lastly, you should know that the rubber tubing is a bit stiff which might make it a little uncomfortable around your neck along with its weight.
Pros
It has excellent acoustics.

It offers better distance.

The stethoscope is easy to clean and durable.

It is super versatile.

It comes with 7-year warranty.
Cons
It is expensive.

It might be heavier than expected.

It is not as useful in pediatrics.

The rubber tubing is uncomfortable around the neck.
Score: 87/100
3M Littmann 6157 Cardiology IV Stethoscope
Here's another model from Littmann's Cardiology series – Stethoscope Cardiology IV, 6157. If you want to purchase this product, you will have to put aside a few more bucks, but it will definitely pay off. It comes with outstanding acoustics, great audibility and tunable diaphragm which allows you to hear both high and low-frequency sounds, by merely adjusting the pressure to the chest piece. Dual-lumen tubing is stain resistant and long-lasting, while the headset can be readjusted for individual fit and comfort.
If you are working in ER, or any other busy and noisy ward where everything is in a rush, purchasing this stethoscope might be a good idea because it will isolate background noises and give you the clear sound of patient's heart or lungs. Also, the tubing is stiff and comfortable, but the whole piece is more lightweight than the previous model. Tunable diaphragm makes it suitable for both adult and pediatric patients. At last, you can choose any design you want, and every nurse in the hospital will envy you.
However, you should know this stethoscope is pricey just like the others from Cardiology series. Also, if you decide to go with some of the bright colored ones, you will notice it stains over time. The chest piece rotates too easily, due to the stiffness of tubing, which means you'll need to check if you are using the right side before you start your examination.  
Pros
It is great for isolating background noise.

The tubing is stiff, synthetic and comfortable.

It is not as heavy as Master Cardiology model.

The tunable diaphragm is top notch.

It is lightweight and has a beautiful design.
Cons
It is a bit pricey.

It might stain over time.

The chest piece rotates too easily.

It could be a little longer.
Score: 100/100
MDF MD One Stainless Steel Premium Dual Head Stethoscope
If you would like to try something different and make a change from Littmann, MDF's MD One Stainless Steel Premium stethoscope might be a good option. This is the only model in this group that comes with lifetime warranty and free parts for life. With stainless steel dual-head chest piece, ergonomic design, soft silicone ear tips, thick, non-stick tubing and acoustic pyramid chamber, this stethoscope offers more than fair sound quality at an affordable price.
The most significant advantage of this product is its price, lifetime warranty and additional pieces that come with it. This makes it ideal for nurses who tend to lose or break their stethoscopes often. If you purchase this product, you will get additional set of earpieces (different sizes), second diaphragm and ID tag. Thick tubing offers clear acoustics. At the same time, it is long enough for comfortable distance, and you can turn the head on and off, whether you are using it or not.
However, the stiff tubing will cause some accidental switching between bell and diaphragm. Also, even though you will hear heartbeat clearly, when it comes to breathing sounds, auscultation is not that good. The stethoscope pushes a little too hard into your ears, which makes it a bit uncomfortable. In addition to this, this piece is heavier than expected.
Pros
It is affordable.

It comes with an additional set of earpieces and the second diaphragm.

It offers clear acoustics and thick tubing.

The tubing is long enough.

You can turn the head off and on.
Cons
Stiff tubing causes an accidental switch between diaphragm and bell.

Auscultation for breath sounds is not that good.

It pushes too hard into the ears, which makes it uncomfortable.

It might be slightly heavier than expected.
Score: 76/100
3M Littmann Lightweight II S.E. Stethoscope
Simple and affordable, Littmann Lightweight II S.E. Stethoscope is one of the most popular models among nurses. Nursing and medical students in training often uses this stethoscope, because it is simple yet efficient, which makes it a perfect entry-level piece of equipment. It comes with double-sided chest pieces, tunable diaphragm, and a non-chill rim. You can choose among a variety of colors, including blue, black, green, lilac and many more.
If you are looking for robust, comfortable, lightweight stethoscope that will allow you to keep enough distance with patients and stay on the budget with your purchase, this model might be a good solution. It is designed to eliminate a lot of excess noises and allow you to hear heartbeat and breathing sound clear. Bell shape can be easily moved under the blood pressure cuff. At last, it is important to note that Littmann Lightweight II S.E comes with a two-year warranty.
However, if you are looking for a durable stethoscope that will serve you for many years, skip this one. It is flimsy, and the most of its parts (including bell and the diaphragm) are made of plastic instead of stainless steel. It comes with single lumen tubing and poor plastic connectors on earpieces. To be fair, sound transmission is rather weak, which means it is not reliable.
Pros
This model is super affordable.

It has a perfect length and weight.

It eliminates a lot of excess noise.

Bell shape allows easy movement under the blood pressure cuff.

It comes with a two-year warranty.
Cons
It comes with single lumen tubing that makes two earpieces with poor plastic connectors.

It offers poor sound transmission.

Bell and diaphragm are made of plastic.

It is a bit flimsy.
Score: 69/100
Conclusion
After careful consideration of all models, we decided that the title of the best stethoscope for nurses goes to 3M Littmann 6157 Cardiology IV Stethoscope. This wasn't an easy choice to make because all of the models have similar features, and they are all fundamentally good, so you won't make a mistake whichever you purchase. However, our perception was that Littmann 6157 offers the "whole package."
It is lightweight, durable, comfortable and provides excellent acoustics. It does cost three times more than some of the other models, but its flaws are practically non-existent.
Once you are done choosing the right stethoscope for yourself, you will notice a significant improvement in your productivity. Remember, select the one that suits your needs. Take good care of it, and it will help you provide even better care for your patients. Don't forget to check out more essential devices which anyone needs to have through our recently reviewed articles.