Fever or high body temperature is one of the most important signs of an infection. Most medical professionals consider temperature above 38 °C as fever. Although it is one of the body's natural response to infection, fevers of 40° C or higher can cause complications and demand urgent medical attention.
Fever is caused by the pyrogens, substances that can be produced by infective agents such as viruses, bacteria, germs etc. Pyrogens signal hypothalamic thermostat, our inner center responsible for body temperature regulation, to increase the set point temperature in order to fight off the infection.
Measuring body temperature is really important when managing various medical conditions. Different medical conditions are characterized by specific changes in body temperature. Moreover, with frequent measurement, doctors can also evaluate the efficiency of the selected treatment.
That's why having a good thermometer is important for you and your health. Although mercury thermometers are the most reliable, their potential toxicity caused a switch to digital thermometers.
Digital thermometers can be inserted into the mouth, the rectum, or under the armpit and therefore measure oral, rectal or axillary temperature. These methods will give different readings with variations in accuracy and time needed to measure the body temperature. Out of all of these methods, rectal thermometers are the most accurate.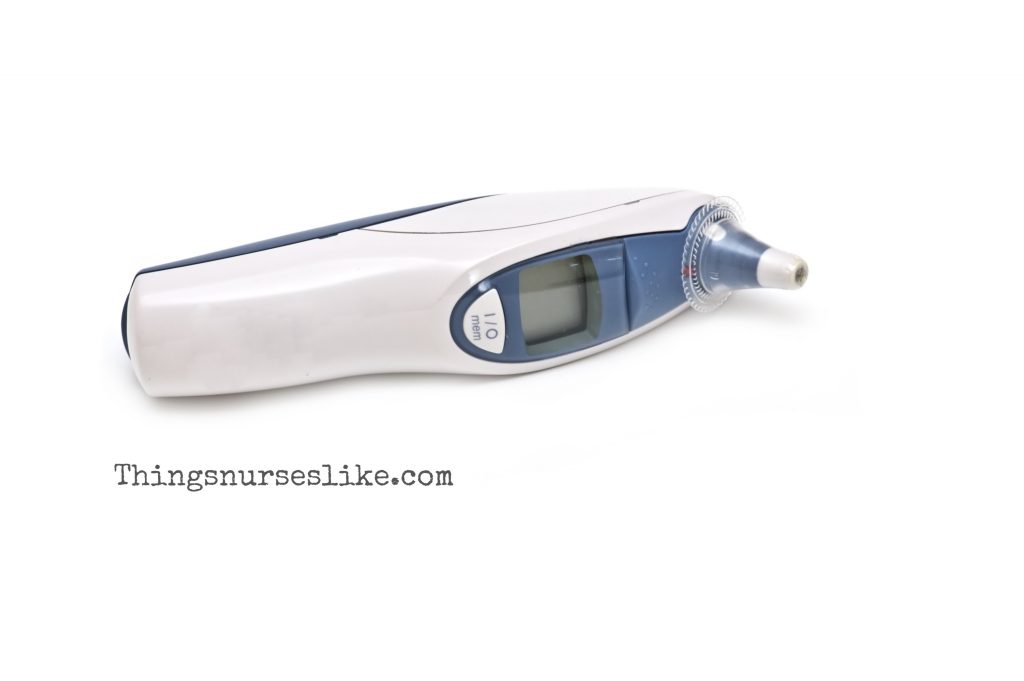 Is there another easier way to measure your temperature faster and more precisely? In the last couple of years, ear thermometers became more popular. Because they are different than other thermometers, many people don't know what to consider when buying one and what are the best products currently available on the market. That's why I've compiled a list of 5 best ear thermometers for adults that I've found online.
How does ear thermometers work?
Ear thermometers actually measure the temperature of an ear drum that is separating the outer ear canal from the middle ear. The reason why this method is one of the most accurate is because the hypothalamic thermostat shares the blood vessels with the eardrum. Moreover, the eardrum is so thin and close to the hypothalamus that it conducts heat easily.
All objects that have temperature above absolute zero emit their heat as an infrared energy. Ear thermometer detects those infrared waves and converts them into a temperature.
How to use ear thermometer?
If you plan on using an ear thermometer, it is important to know how to use it properly. People make lots of mistakes when using an ear thermometer and get inaccurate readings.
1. Clean the ears first
Ear wax can prevent the tip of the ear thermometer to detect the temperature, leading to inaccurate results. Avoid using cotton swabs or similar methods as they can push the ear wax even more to the ear dream, causing even less accurate results.
The most effective and safest way to clean your ears is by using a few drops of oil or special ear drops that will soften the earwax. After that rinse it with water.
2. Gently pull your ear up and back
It is important to know that ear canal is not straight. Moreover, there is a difference between the shape of an ear canal in infants and adults. In order to straighten the ear canal in adults, gently pull your ear up and back before using the ear thermometer.
Straightening the ear canal will prevent injuries, irritation and allow more accurate reading.
3. Place the tip of the ear thermometer properly
Do not push the tip of the ear thermometer too much. It doesn't need to touch the eardrum. That way you will make a seal and get readings that are higher than the real temperature.
What to consider when buying an ear thermometer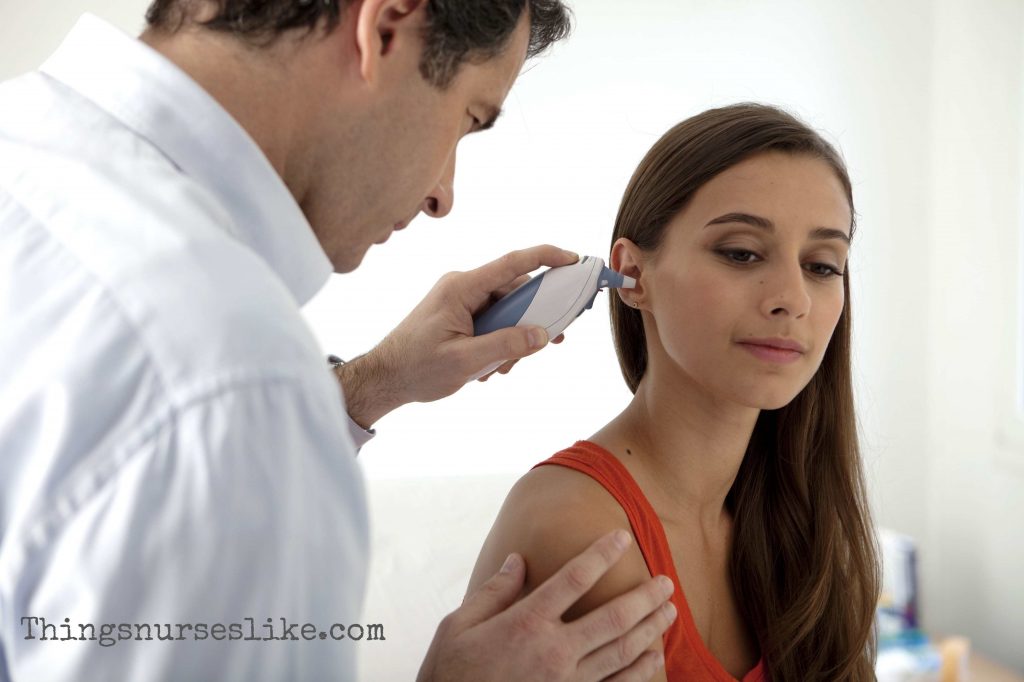 1. Accuracy
The most important feature of every thermometer is its accuracy. Inaccurate readings of ear thermometer are usually caused by low quality materials and infrared sensors. Low quality thermometers that are non-calibrated have sensitivity that is too high or too low, showing temperatures that are much higher or lower than the real body temperature.
2. Materials and quality
When you're buying ear thermometer, you should always look for those that are durable and made of high quality materials. You don't want to be in a situation when you're not able to check your body temperature because your thermometer suddenly stopped working, even if its new.
3. Display
Having a display that is big enough for you to read your temperature easily is important, especially for older people or those who wear glasses. Moreover, it should be backlit, so you don't have to turn on the lights when measuring your temperature in dimly lit rooms.
4. Functions
In addition to body temperature reading, most of today's thermometers have additional functions. Having a light or/and sound signal that will inform you when the reading is finished or if you have a fever even before you've looked at the display is a welcome addition.
Some ear thermometers will inform you if you've placed your thermometer incorrectly. That way you will lower the possibility for wrong and inaccurate readings.
Memory is an important feature too, especially if you plan on tracking your body temperature for some time. This way you can track the state of your medical condition. Moreover, tracking your body temperature can also be helpful in evaluating your treatment. Most of today's ear thermometers can memorize more than one previously measured temperature.
Now that I've told you what to consider when buying ear thermometer, you should also check my list of best ear thermometers currently available on the market.
Top 5 Best Ear Thermometers for Adults
1. Braun ThermoScan 5
There are various reasons why this product caught my eye. Firstly, Braun is a successful company known for their various high-quality products. Secondly, according to survey from 2017, their thermometers are most recommended thermometers by the doctors. Moreover, they are also most frequently used.
The Braun ThermoScan 5 features pre-warmed tip, which is really important for accuracy of ear thermometers. Pre-warmed tip will minimize the cooling effect on eardrum that can cause in inaccurate, lower temperature readings.
Proper position of the tip in the ear canal is important for accurate body temperature reading by the ear thermometer. Braun's ExacTemp positioning system confirms the correct position with light and beep signal. This way you're never going to worry if you're reading is incorrect because of the wrong position in the ear canal.
This thermometer is also designed with hygiene and cross-contamination in mind. It comes with disposable lens filter that will not only maintain hygiene and prevent cross-contamination, but also ensure that ear wax will not impact the accuracy of the reading. The box includes 21 lens filters that can also be bought separately for a low price.
Using Braun ThermoScan 5 is really fast and easy. It will read your temperature in just a couple of seconds and it can also memorize the last temperature measured.
However, not everything is perfect. The display is not backlit, so it is not possible to read the temperature when the lights are turned off. Moreover, it only memorizes one last reading, so it is impossible to track your body temperature for longer periods. Not being able to memorize more than one reading is really disappointing, especially when much cheaper ear thermometers have this feature.
Pros
Uses two AA batteries which can be switched easily.
Pre-warmed tip and ExacTemp positioning system ensure highly accurate readings.
Disposable lens filters maintain hygiene and prevent cross-contamination between users.
Fast speed of measurement – it takes just a couple of seconds to measure your temperature.
Cons
The display is not backlit, so it is difficult to see the result in dimly lit rooms or by those who have problems with vision.
It only remembers last temperature measuring.
2. Kinsa Digital Smart Ear Thermometer
Are you one of those people that like to store most of their information on their smartphone? If you are, then this Digital Smart Ear Thermometer by Kinsa is the right choice for you.
Kinsa's Digital Smart Ear Thermometer can connect via Bluetooth to your smartphone. Just download the app and you will always have access to temperature readings of you and your family.
You can create multiple profiles for different people that will track other various data along with body temperature readings. The application can also show reminders (for example when to give the next dose of a medication), what medications are used, what doses and at what time, symptoms, diagnoses, photos and notes etc.
The measuring is really fast and almost always accurate. Just be sure to remove the hard-plastic cap before usage. The cap should be not used when measuring.
However, there are some disadvantages. The materials are soft to touch, but it feels light and a bit cheap. I with they've used sturdier plastic. This way it has questionable quality.
Another disadvantage is the battery life. Although the manufacturer claims a two-year battery life, I've had to exchange them just after a month of usage. It doesn't have a disposable cap, so you need to clean it after every usage.
Pros
Fast and mostly accurate temperature readings.
You can connect it to your phone via Bluetooth and track temperature readings and other data such as reminders, medications used, symptoms, diagnoses, photos, notes etc.
Cons
Light, cheap plastic and questionable quality.
Battery life is less than what the manufacturer claims.
It must be cleaned after each use because it doesn't have disposable tips.
3. Innovo Medical Digital Forehead and Ear Thermometer
Innovo's Medical Digital Thermometer has one more measuring method in comparison to previous products on this list. In addition to measuring the ear temperature, this thermometer can also read your forehead temperature.
The results are displayed on the screen almost instantly. If your temperature is higher than normal, the screen will turn red and the alarm will sound off. The memory of this product can store up to 20 previous readings, which is great for those who need to track their body temperature.
Having an additional measuring method can be used to compare your readings and check if you've measured your ear temperature correctly. However, the forehead readings were so inaccurate that I don't recommend using this function.
This ear thermometer has an upgraded infrared sensor for more sensitive and accurate readings. The manufacturer claims that it is using the technology which was previously only available to doctors and medical professionals. Unfortunately, I did notice that the product showed lower than the real temperature occasionally.
Although it is made of sturdier plastic, the plastic that covers battery gets loose easily and can fall off.
Pros
The results are displayed almost instantly.
It can store up to 20 previous temperature readings.
Uses two AAA batteries and can last up to thousands of readings.
Can show results in both Celsius and Fahrenheit.
Sound and visual alarm for high temperatures.
Cons
Forehead readings are inaccurate – don't use it to compare with ear temperature results
The thermometer may show ear temperature that is lower than the real body temperature.
Plastic battery cover can get loose easily and fall off.
It must be cleaned after each use because it doesn't have disposable tips.
4. Ear Thermometer by Vive Precision
Vive Precision's Ear Thermometer is the cheapest product on this list. Because of its low price, I didn't have big expectations like I've had for other, more expensive thermometers on this list.
The first thing that you'll notice is how light and compact this thermometer is. The zipper case for easy storage is also included in the box. The backlit screen which takes the lower part of this thermometer is easy to read, even in dark rooms.  Moreover, the display has a low battery indicator, so you'll know when to charge the thermometer's battery.
This product has memory that can store last ten body temperature readings, so you can track your temperature easily. It can also show temperature in Fahrenheit or Celsius.
The manufacturer states that every thermometer is individually tested for guaranteed accuracy. However, I did notice some variable inaccurate readings that were more often than in other products from the list. Sometimes it can show results that are higher than the real body temperature. I presume that this partially has to do with the shape of the tip which is not so comfortable.
In order to get the most accurate reading you need to be still and position it the right way. If used correctly, it is consistent between readings both in same ear and between different ears.
All in all, this product exceeded my expectations, especially for the price you pay.
Pros
Cheapest product on the list.
Light and compact with carrying case included in the package.
Big backlit display that is easy to read with low battery indicator.
Memory can store up to ten last readings.
It can show in both Celsius and Fahrenheit.
Cons
If not used correctly, it can show higher than real results.
Tip of the thermometer is not ergonomic and can cause inaccurate readings.
It must be cleaned after each use because it doesn't have disposable tips.>
5. iProven Medical Ear Thermometer with Forehead Function
This thermometer by iProven also has dual mode – it is both ear and forehead thermometer. You switch between these two modes by pressing the appropriate button.
The first thing that you'll notice is great build quality. It is made of high quality, sturdy plastic that seems durable. However, the tip cover can be difficult to remove. The manufacturer is so confident about the quality of its product that they give 100-day, no-questions-asked money-back guarantee.
The measuring time is pretty fast, just a couple of seconds. Moreover, there is a loud beep that will notify you when it is done. It also has a fever alarm which will sound off if you have high body temperature.
The display is big and nicely backlit, so you can easily read the results in almost every condition. Similar to the other products from this list, it can store up to 20 last readings that can easily be recalled with just a single press of a button.
In comparison to Innovo's thermometer, both ear and forehead temperature readings are pretty consistent and accurate. Just don't forget about usual variations between these different measuring methods.
Pros
Great build quality.
100-day, no-questions-asked money-back guarantee.
Fast measuring time, just a couple of seconds.
Usually accurate and consistent temperature readings.
It can store up to 20 last readings.
Cons
Fairly large tip can give inaccurate results in people with smaller ear canal.
The cover of the tip is difficult to remove.
It must be cleaned after each use because it doesn't have disposable tips.
Conclusion
Even though there are various ways to measure your body temperature, they don't quite measure up to ear thermometers. They are more accurate and can detect the change of body temperature faster than any other method.  That way you can act quickly and prevent further progression of your medical condition.
Other methods like auxiliary or forehead thermometers actually detect skin temperature, which often do not represent the core body temperature. Similarly, drinking cold or hot drinks before oral temperature reading can lead to inaccurate results. With ear thermometer you are going to avoid all of these problems.
Ear thermometers are also minimally invasive, especially in comparison to rectal thermometers. Moreover, you don't have to take off your clothes in order to measure your body temperature.
Every product from this list have some advantages and disadvantages. However, if you don't mind the inability to store more than one reading and slightly higher price, I recommend getting the Braun's ThermoScan 5 ear thermometer. In addition to being the most accurate, having the signaling system that will correct the position of the tip is nice addition, especially for those who've never used an ear thermometer before and may get inaccurate results.
After reading this article, I hope you've found this article at least little bit helpful and that I've made your search for the right ear thermometer easier.