If you're a med student or work in any medical field, you have probably worn a set of scrubs. You also, most likely, hate them with a burning passion – which is understandable. Most people don't put a lot of thought into picking their scrubs, so they end up with a set that just makes them hate the entire concept of wearing scrubs. Men, in particular, have this problem since it's difficult to find the right set in a profession that is predominantly female.
Well, today we have assembled a quick guide that will help you pick the best scrubs for men, and we run down some of the best products out there right now. So let's get started!
Why Medical Scrubs are Important?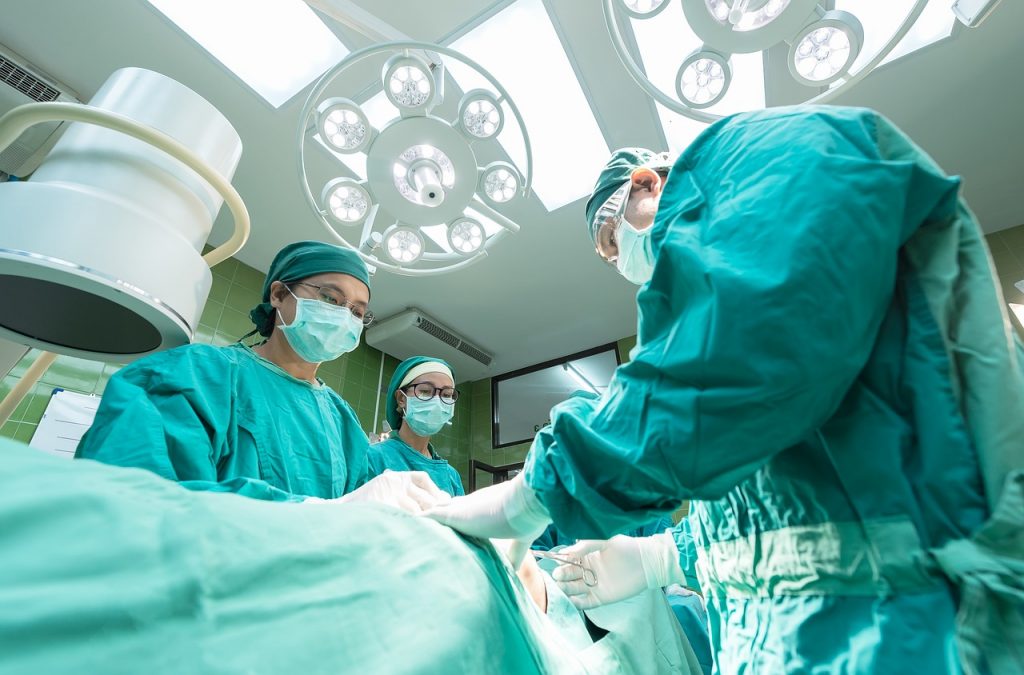 Most medical workers and registered nurses are required to wear a uniform – colloquially called 'scrubs' – while on work duty. One of the most obvious reasons for wearing scrubs is so patients can easily identify nurses and medical workers, but there are other reasons for their existence and importance.
For starters, scrubs help keep up cleanliness in the hospital environment in a way that regular clothes couldn't. They are also usually in a single color, like white or blue, so nurses can more easily identify contaminants that might fall on them – blood, stool, urine, vomit and so on. This is also why having more than one set of scrubs on hand at all times is recommended.
Scrubs are also made from different materials than regular clothes so they would be able to survive the harsh cleaning process that's necessary for medical uniforms. All medical uniforms need to be cleaned more harshly than regular clothes to ensure that no contaminants or germs remain on them. Your clothing, no matter how well-cleaned could never be as clean as scrubs or survive the necessary cleaning procedures.
They are also quite cheap so they could be disposable. Sometimes, scrubs will be damaged beyond repair in a hospital environment, and that's just a fact of life when working in such an environment. You have to toss them out and move on – and you don't want to do that with more expensive articles of clothing.
Scrubs are also more functional than most regular clothing, offering easily accessible pockets that can be used for carrying medical instruments. They also allow you to perform some more physically intensive tasks without the risk of ripping or tearing at the seams. If you're wearing personal clothing underneath your scrubs, you should also make sure those clothes provide you with equal maneuverability.
Overall, those are some of the top reasons why scrubs are important for medical workers.
Men's Scrubs vs. Women's Scrubs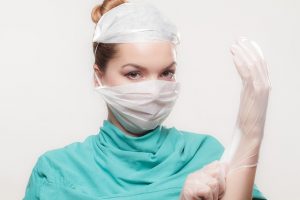 Some of you might be confused as to why there are men's scrubs and women's scrubs since scrubs seem quite loose-fitting and like they would fit anyone. Indeed, there are unisex scrubs that are made so they can fit both men and women, but getting specific scrubs is better.
When doing your job for an entire 8 to 12-hour shift (or more in some cases), you need to wear something that will suit you. Men have broader shoulders than women, women have a thinner waist and larger hips and so on – a men's scrubs set will be uncomfortable for a woman and vice-versa. That's why specific products for each gender exist.
However, the qualities that make a good set of scrubs remain the same in both men's and women's versions. Next, we'll talk a bit about that.
What Makes a Good Set of Medical Scrubs?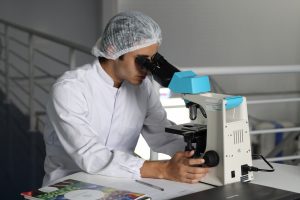 Scrubs are simple articles of clothing – or they might seem like that on the surface. That's why a lot of people just pick up the first set they come across and don't think about it too much. Only when those scrubs end up being uncomfortable during a long shift, do they realize their mistake – and sometimes not even then. Some just think all scrubs are uncomfortable and take it as a fact of life.
However, that is not the case and good quality, comfortable scrubs exist out there. You just need to know what to look for to find them.
Here, we outline some of the most important things you need to consider when purchasing a set of scrubs for yourself.
The Material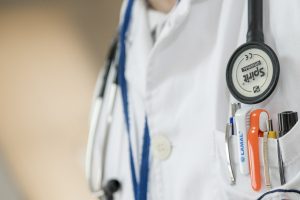 The materials your scrubs are made off make a big difference. Depending on what they're made of, your scrubs could be more or less comfortable and functional.
One of the popular choices is cotton, which works fine since it is a highly breathable material and quite comfortable. However, it is not as durable as some other materials might be.
Scrubs can be made out of a variety of other materials, including completely synthetic, polyester ones as well. Most are made out of some blend of natural and synthetic materials, though.
The most important thing is that the material feels comfortable, that it breathes well and that it is at least a bit stretchy and not completely rigid and stuff.
You should also consider how the material the scrubs are made off performs in the wash. You will inevitably get them dirty while working so having a pair that isn't stain-resistant or shrinks in the wash is quite troublesome.
Some scrubs are also made from materials that are anti-microbial which helps when working with patients to avoid transferring a disease or contaminant from one room to the other.
The Fit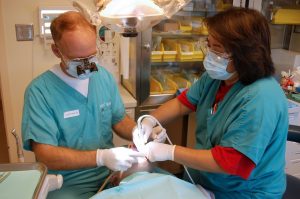 Many people, even medical workers who have worn scrubs for years or decades, see them as naturally baggy clothes. Probably the most common advice you will get when buying scrubs will be "just buy one size up, and it will be fine" – but that advice couldn't be more wrong.
Buying scrubs that are too large for you doesn't make them more comfortable than tight ones – it just produces a different kind of discomfort. Getting scrubs that are baggy will cause you all sorts of problems. Like having to pull up your pants constantly or getting contaminants onto the clothes you're wearing underneath your shirt and so on.
Because of that, you need to find a set of scrubs that fits you perfectly – or as close to perfect as you can find. This will ensure that your scrubs perform their function properly and that you remain comfortable in them during long shifts.
Getting stretchy scrubs will help in this regard since they don't have to fit your perfectly to be a perfect fit if you get what we're saying.
This is also why you should get scrubs made for your gender though unisex scrubs can still fit fine, they can be bad as well.
Make sure you choose a shirt that is long enough and will drop below your hips so you can be covered when you bend or stretch. Also, make sure your pants aren't too long and that you aren't stripping on them when you walk or run.
Utility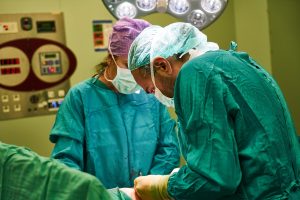 As current and former healthcare workers, we can tell you this much – you can never have too many pockets. Of course, this doesn't mean you should use a pair of cargo pants as your scrubs, but it does mean that you should search for scrubs that provide you with enough storage space.
The pants of your scrubs should have at least two pockets on the sides, but you should probably look for a pair that has some additional pockets on the back as well as one or two more on the thighs.
As for your shirt, one pocket on your chest should be more than enough, though having two won't hurt at all.
You should have at least a few pockets overall since you never know when they might come in handy.
The Look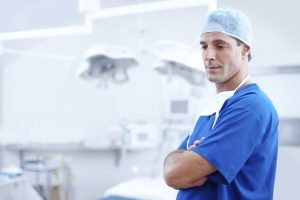 Functionality is the main concern when buying scrubs, of course, but that doesn't mean you can't also look good in them.
For starters, you do need to get a set of scrubs that fit your workplace standards. Most places require scrubs of a certain color or at least scrubs that are single-color. However, there are more lax workplaces that will allow you to wear multi-colored scrubs or scrubs with a pattern.
Even when one-color scrubs are required, you can still get some style in there. You can get scrubs that have some darker sides if you want them to have a slimming effect, for example. You can mix and match different pants and shirts to create different looks.
However, never let fashion concerns override functionality. For example, don't buy scrubs that have glitter or similar material on them. They could shed all over your patients or important, sterile equipment.
The Top 5 Medical Scrubs Sets for Men
We have had a lot of experience with different kinds of scrubs during our careers, and today we have compiled a list of some of the best ones around. Take a look.
Cherokee Uniforms Authentic Workwear Unisex Scrub Set
The material itself is also stretchy and mostly comfortable when moving, though it can be a bit too rough for some people used to pure cotton.
As far as washing goes, they won't shrink or fade during the process, and you can get them in a wide variety of colors. The colors also look just as advertised on the page.
There are some problems with the fitting, though. The sizes aren't standard, so you will probably have to order a size down from what you usually wear to get a decent fit. Even then, the string on the pants might not hold them up well since they can be a bit too wide. The v-neck also might be too large for people with average or thin necks.
Overall, it is a decent set of scrubs, especially at this price but there might be a few better ones out there.
Pros:
• This set of scrubs has deep pockets that offer a lot of utility.
• It comes in a wide variety of colors, and the colors won't fade during the washing process.
• They are made from a good material that can stretch easily so it will be fairly comfortable, but it's not too soft.
Cons:
• The sizes are non-standard, and you might need to order a size down to get a set which will fit you.
• The waist ties on the pants can loosen up so tie them well.
• The v-neck might be a bit too large for you if you have a thinner neck.
Adar Universal Medical Scrubs Set Medical Uniforms
Despite their cheapness, the material they are made of is quite durable. The color doesn't fade with time, and they can fit most different body types.
However, these scrubs do shrink in the wash so get a size up because of that. The material is also thick and hard, so it's uncomfortable for a lot of people used to cotton.
Probably the worst part about these scrubs is the fact that the pants and shirt are a bit mismatched so the pant legs can be quite long and the shirt can be overly small. The pant legs can be shortened but there's not a lot you can do about the shirt, and it will shrink further in the wash.
Pros:
• You won't need to fork over a lot of cash to buy this set of scrubs; they are quite affordable.
• The material it is made of is quite durable, and the color doesn't fade with time.
• They will be able to fit people of most body types.
Cons:
• You will find that these scrubs tend to shrink in the washing machine.
• The material it is made of is a bit too hard and too thick to be comfortable.
• The bottom and top are a bit mismatched as far as size goes. You might need to shorten the pant legs.
Cherokee Mens Workwear Scrub Set Medical/Dentist Uniform
Overall, these are nice quality scrubs. One of the best parts are the pockets – there are plenty of them. The shirt has one large and deep pocket while the pants have regular hand pockets and some cargo pockets. Sadly, the pockets on the pants are too shallow for carrying most items, but they are still useful.
The material they are made of is durable and a bit rough, which some may consider uncomfortable. However, the fabric is durable and doesn't shrink after washing. These scrubs are also quite thin and stretchy so moving in them is a breeze, even when performing physically intensive tasks.
The major problem these scrubs have is the price – they are costlier than the average. However, paying for this kind of quality might be worth it.
Pros:
• You won't be hurting for pockets with this set of scrubs – they have more than enough.
• These are more than durable enough and won't shrink during washing.
• The material is thin and quite stretchy so you won't have trouble moving in them.
Cons:
• These scrubs cost a bit more than is usual.
• The fabric is a bit rough so some people might find it to be uncomfortable.
• Sadly, most of the pockets are a bit too shallow.
NATURAL UNIFORMS Men's Scrub Set
Another noticeably great thing about these scrubs is their price. They are cheaper than most on the market, though not the cheapest ones out there. They even hold up well in the washing machine and don't shrink or fade.
However, the cheapness is evident in the fact that the material they are made off is quite flimsy and might rip if you're not careful. It doesn't seem to be stitched too well.
The fit is also a bit suspect –the collar seems to be quite tight for most people, and they have trouble fitting their head through it. In combination with the flimsiness of the material, this leads to a lot of torn shirts. The material can also be quite coarse and uncomfortable.
Pros:
• This set of scrubs comes at an incredibly affordable price, better than most competitors.
• There are a ton of great, deep pockets on these scrubs – six in total.
• They wash off well and don't shrink or fade over time.
Cons:
• Sadly, the material is not as durable as with other scrubs, and they can rip easily.
• The collar is a bit tight, and if you have a thick neck, it might be uncomfortable.
• You will find the material to be quite coarse which can cause discomfort.
G Med Unisex Scrub Set
They also have a ton of good, deep pockets that you can carry stuff in. You will never be lacking in storage space with these.
Another great thing is that they hold up in the wash – no shrinkage or loss of coloration when it comes to these scrubs.
However, these are unisex scrubs, and they don't fit too well on most people, sadly. Especially the pants – they are too wide. The v-neck is also cut a bit too deep, and stuff might fall in there if you don't take care. In addition to that, the material is quite rough and might crumple during drying.
Pros:
• The price is incredibly affordable, probably one of the best on the market.
• You won't have trouble carrying stuff since these scrubs have lots of deep pockets.
• The colors are exactly as advertised and they don't fade with washing.
Cons:
• The v-neck on the shirt might be cut a little too deep, so you have to be careful if you don't want anything to get in there.
• The material is a bit rough, and some might find it uncomfortable.
• The fit for the pants might be a little too wide for most people.
Conclusion
So, that's it – in our opinion, those are the five best sets of scrubs for men on the market right now. If you asked us to pick one as the best, we honestly couldn't say since they all have their upsides and downsides, so which one is the best depends on your needs and budget.
If this article helped you or you think it might help others – share it around! Feel free to share your opinions in the comment section as well, if you have anything to say. Until next time!