Doctors are an important part of a health care system but I think that nurses are important too. Actually, I think that they are at least as important as doctors, sometimes maybe even more.
Don't get me wrong, doctors are important for diagnosis and choosing the right treatment for patients. However, almost all care after that is taken by nurses.
Thankfully, in the last couple of years, people have become more educated about the important role that nurses have in medical setting.
One of the reasons for this is that many people spent some time at the hospital, whether it's because of them or their significant other.
Spending some time at a hospital will make you more aware of the expertise and knowledge that nurses bring to the table.
Is there a nurse in your life that you would like to honor by buying her a gift but you don't know what to get? If so, you're at the right place. Today I'm going to talk about things you can consider when buying a gift for nurses.
I've also reviewed some of the best gifts that you can buy for nurses, whether it's for your loved one or a nurse that treated you or your significant other at the hospital.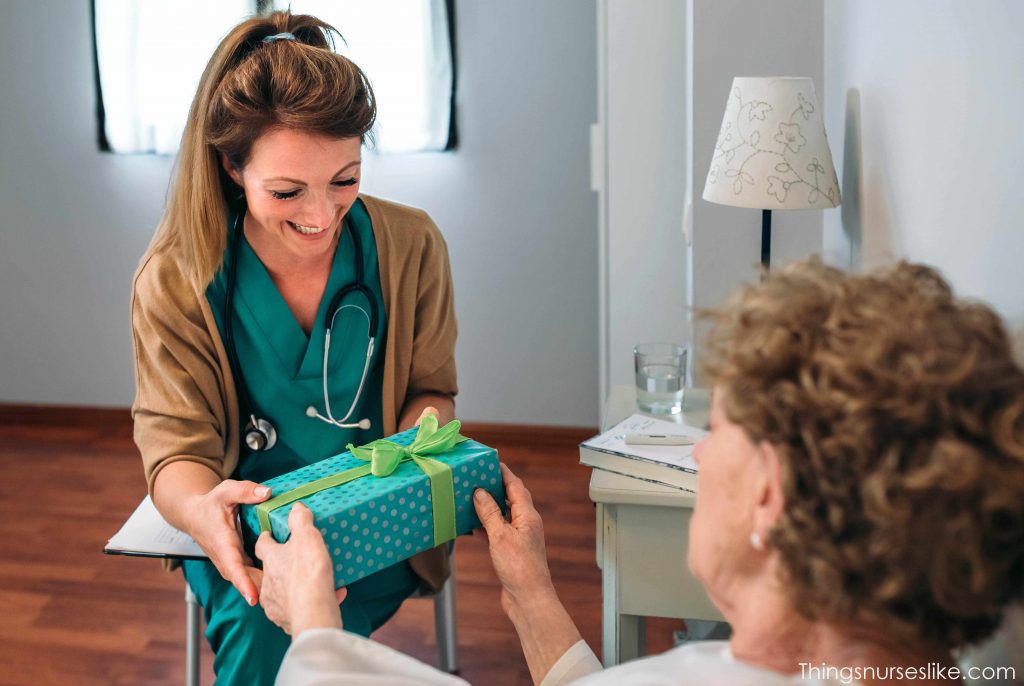 What to consider when buying a gift for a nurse?
There are several things that you can consider when buying a gift for a nurse. It all depends on what type of person you are as well as how much the nurse you're buying a gift means to you.
Do you like finding gifts that are unique and creative or you're more the type of person that doesn't like to spend too much time on it and goes for more useful and practical gifts?
If you're buying a gift to a nurse as a way to thank her for all the great work that she's done for you or your close one at the hospital, you should probably go for something that can be more useful and handy. You probably don't even know this nurse that much personally, so you can't be wrong with this type of gifts.
Usefulness is actually one of the first things that come to people's mind when buying a gift for a nurse. Why not buy something that will make a nursing job easier or make them feel more comfortable?
We all know that nurses spend a lot of time rushing through hospital doing different tasks. They also spend a majority of their work on their feet so getting them proper footwear, compression socks or scrubs that will make them more comfortable is a great useful gift idea for a nurse.
However, useful gifts for nurses are usually not creative or unique, so if this nurse means more to you, you can also go for a gift that is unique and creative. Moreover, if it's somehow related to their job it will be even better. For example, if you go for a jewelry, you should try to find the one that somehow represents medicine like jewelry in a shape of a heart.
Uniqueness and creativity usually go hand to hand. You can express creativity in various ways like choosing the right colors, making the gift relatable or doing something that is homemade or designed by you. There are so many options and they all depend on you and how much effort you want to put in making this gift.
Price is also the important thing you should consider, especially if a nurse is not your loved one. The reason for this is that most hospitals have a limit on the value of grift a nurse can receive from a patient or their family and friends. If you're not sure what is the limit, check with hospital administration.
Here are some of the best gifts for nurses in my opinion
Dansko Women's Professional Clogs
Nurses spend most of their working hours on their feet which is why it is important for them to have shoes that are both comfortable and functional at the same time. Nurses usually wear one of two types of footwear at their work – clogs or shoes. Some of them even switch between these two. That's why I think that clogs are a really great gift idea for nurses.
When it comes to clogs, Dansko is one of the of the most popular brands available on the market. There is probably not a single nurse who haven't tried some of these clogs. There are so many options available but I think that Dansko Professional Clogs are one of the best clogs for nurses in my opinion.
It's important that nurses wear clogs that are not only comfortable and supportive but slip resistant too. You don't want to slip and fall during your run through the hospital. Thankfully, Dansko Professional Clogs provide all these features. The rubber outsole is slip resistant with rocker bottom for better shock-absorption, providing you stability and safety at the same time.
Comfort is another feature that is provided by these clogs. The wide toe box along with great arch support and previously mentioned shock absorption will make sure that you can spend longer periods of time on foot without muscle ache and fatigue.
Nurses get in contact with various fluids during their work, so it is also important that they can clean their clogs easily. Thankfully, leather upper of these clogs can easily be wiped so this is another thing that you don't need to worry about at your work. Moreover, there are various different colors and prints available, so you can choose darker tones that will cover any dirt that you have on them.
Pros
They come in various prints and colors
Leather upper that can easily be cleaned along with rubber outsole with rocker bottom for shock absorption and slip resistance
Good arch support along with memory foam insole and shock absorption outsole provides great comfort, stability, and support
Wide toe box for additional comfort of your toes
Cons
Sizes are a little bit off
They are not recommended for those with flat feet
MedPro Women's Medical Scrub Set
Even though it is a specific working environment, nurses still want to be stylish, comfortable and look professional at the same time. In the past, scrubs were just a regular t-shirt and pants made of more resistant materials since they were used primarily in operating rooms by surgeons and support staff. Thankfully, today scrubs come in different styles, colors, and prints so nurses can still feel feminine even at their work.
Although they are not perfect, I recommend MedPro Women's Medical Scrub Set since it comes in so many prints and colors that I'm sure you're going to find the one that suits the most to the person you're going to gift them.
The materials used for this set is a blend of cotton and polyester, providing you both comfort and durability. Both t-shirt and pants have a number of pockets so you don't need to worry about not having enough space for all the tools you need during your work. The fit may be looser but this way you feel more comfortable.
All in all, this is a good set of scrubs that can be a really good choice for a gift.
Pros
The t-shirt is available in various nice prints while pants come in several different colors
There is a number of sizeable pockets on both the top and the bottom
You can wash them without the fear that they will shrink after wash
Cons
The fit is maybe more loose for some women
The top fits better than the pants which are not true to the listed size
Saunders SlimMate Plastic Storage Clipboard
Nurses always bring a lot of stuff with themselves during their work. Although scrubs with lots of spacious pockets like the one that I've recommended are really useful, there are more practical ways to bring papers and smaller tools and supplies.
Saunders SlimMate Plastic Storage Clipboard is a product that looks like a regular clipboard for papers. However, there is actually a hidden storage underneath the clipboard that is really practical for holding a pad of paper and other smaller supplies.
The plastic feels really sturdy so nurses don't have to worry about breaking this clipboard easily during their work. Moreover, this snap closure will keep materials protected from impact and various liquids that nurses get in contact with.
This is another really practical gift that you can get for a nurse and I think that with this gift you're going to make their job easier.
Pros
Really nice pink color
Made of plastic that is sturdy enough so it won't break that easily
There is a hidden storage underneath the clipboard that is practical for holding paper, pens and other smaller medical and non-medical tools and supplies
Hidden snap closure protects supplies in it from both impact and various liquids
Cons
There is only one clip on the top so it probably can't hold a bigger amount of papers
Clipping mechanism can be hit or miss
Nurse Mates Women's 12-14 mmHg Compression Trouser Sock
You already know that nursing can be a really exhausting job. There is probably not a single workday when they don't spend most of their working hours up on their feet rushing around hospitals completing various tasks. All these standing will have a significant effect on your feet and legs. Moreover, it can also affect your back and neck too.
Pain in feet and legs and swelling are just one of the most common problems that affect nurses. Moreover, it can also cause varicose veins and other problems with the lower limbs blood vessels long term that is hard to treat. That is why it is important to have proper footwear for this profession as well as good compression socks that will ease the symptoms and prevent various problems.
The Nurse Mates Women's 12-14 mmHg are compression trouser socks that come in various designs and colors so they can be a great gift of choice for a nurse. These socks provide great compression from knee to calf muscles and all the way down to the foot. They also have heel and toe pocket that provide support and stability to the ankle and toes.
These socks provide all these great features while still being really lightweight and comfortable. They are also gentle to your skin and prevent sweat build up and odor. This is achieved by materials ability to absorb moisture.
One more really important thing is that they don't slip down or bunch up while you wear them. No nurse wants to spend plenty of time dealing with socks, especially during rush hour.
Pros
They come in various colors and designs
They provide good compression from top to bottom of the lower leg while being lightweight and comfortable
The material prevents sweat build-up and odor
They don't slip down or bunch up
Can also be worn by those with wider and bigger calf muscles
Cons
They can leave marks on the skin
They don't have the best compression possible
MDF Rose Gold MD One Stainless Steel Premium Dual Head Stethoscope
The stethoscope is an important medical tool for doctors and nurses. With a high-quality stethoscope, it will be much easier to diagnose lung, heart and other conditions and this MDF Stethoscope is a great choice for that.
This MDF stethoscope is made of stainless steel and comes in a beautiful rose gold color that is great as a gift for nurses. I think there is not a single woman who doesn't like this color. If not, it is also available in other colors that are even cheaper.
This is a classic stethoscope that comes with the traditional diaphragm on one side of the chest piece while the open bell is at the opposite side. The chested and binaural of this stethoscope are made of stainless steel while the white colored acoustic tubing is non-stick and provides both good sound transmission and sturdiness so you don't have to worry about wear and tear for a long time.
Another great thing about it is that this stethoscope has a life-long guarantee with unlimited free parts replacement so you will be covered for the rest of your career.
All in all, this stethoscope is a great value for money that can be a really nice and useful gift for a nurse, especially in these more interesting colors.
Pros
Comes in beautiful rose gold and 16 other colors
Has good acoustics
It is more affordable than other alternative brands
Cons
The white colored acoustic tubing in rose gold option can get dirty easily
Different prices for different colors
Conclusion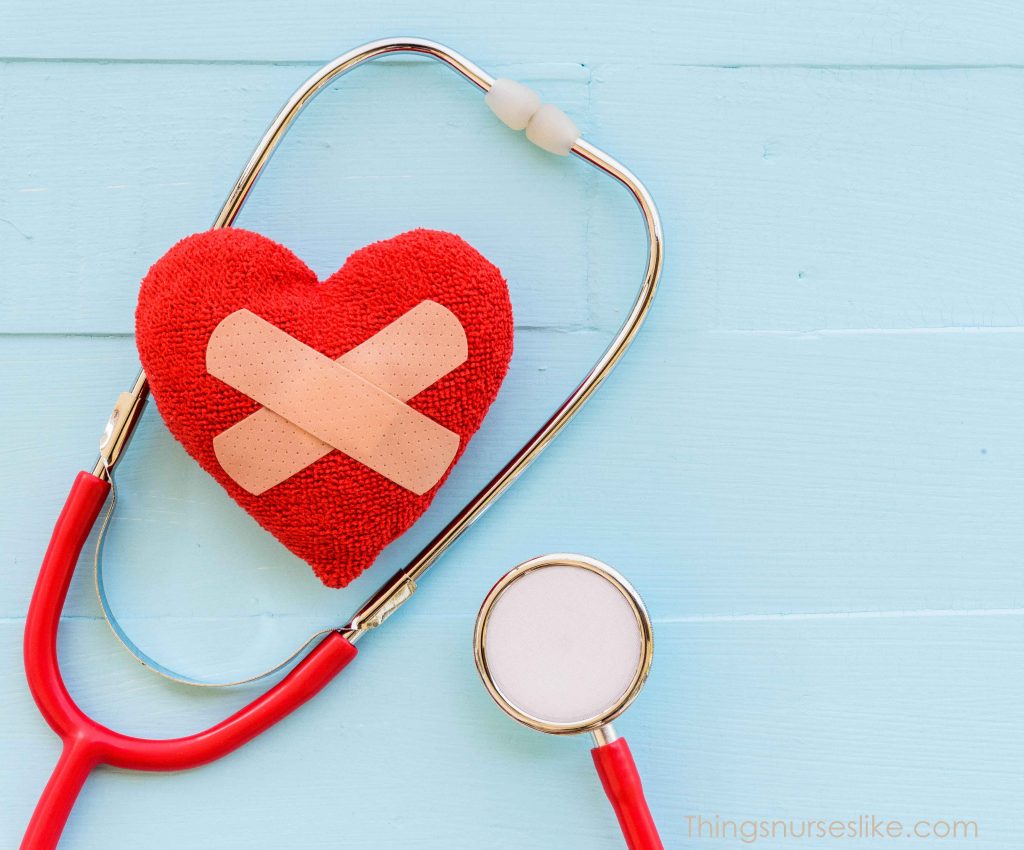 Getting a proper gift for a nurse can be difficult since there are so many options available. I think that it can be even more difficult if the nurse is not your loved one. You don't know this person that well but still want to show them how grateful you are for all the work that she's done.
I hope that with this text I've made your choice at least a little bit easier and that you'll find the right gift for your nurse.