Nurses and nursing students often tend to avoid dissection as they find it nauseating.
However, it is an essential part of learning about human or animal anatomy, and whether you like it or not, you will have to go through it at least once during your education.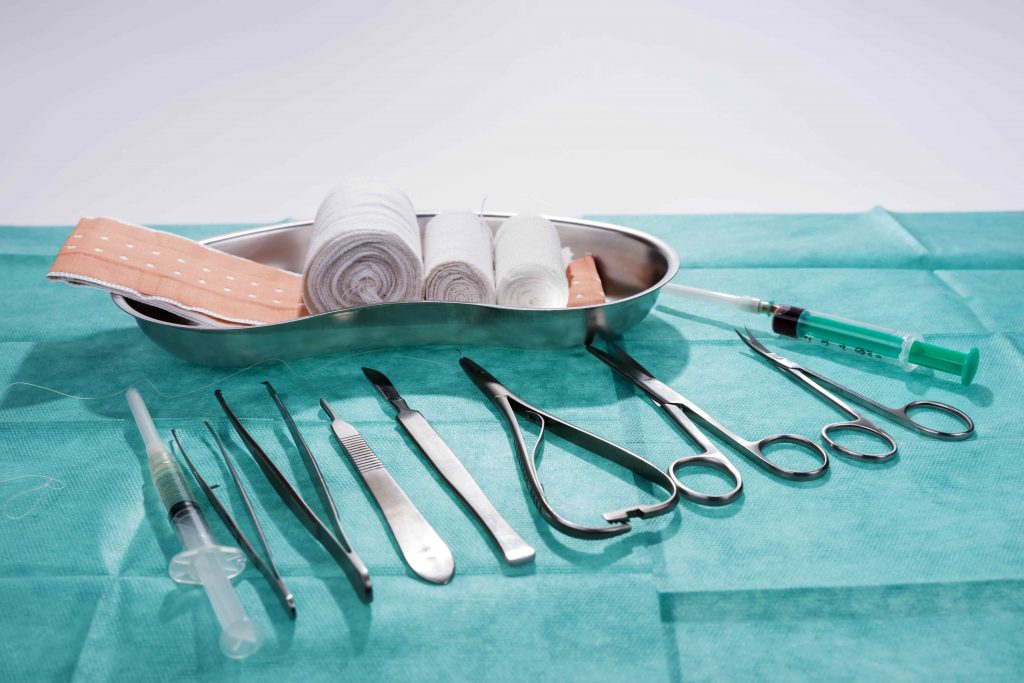 On the other hand, you might not be a student anymore, and still need a dissection set. Some people prefer to have it as a part of their first aid kit, and some like to perform smaller interventions, like removing splinters or ingrown toenails (even though this is not recommended), on their own. At last, some people purchase dissection kits as tools for their hobbies.
Whatever your reasons for buying the best dissection kit are, we are here to help.
We will tell you what to look for and present you the best models on the market.
Let's dive in!
What Are the Main Instruments Used in Dissection?
As a nurse or a med student, you will go through anatomy and physiology class, sooner or later. This means you will have to dissect or at least "poke around" some animal and their organs (such as fetal pig, sheep brain and eyes). Sometimes you will even get a chance to work on a human cadaver.
For all of these scenarios, you will need a proper dissection kit.
Before we jump into talking about the best dissection kits on the market, let's take a look at the basic instruments that you'll use. This will also give you a general idea of what every kit should have.
Scalpel
Most commonly, you will get one or two scalpel handles and many disposable blades. Each blade should be made of stainless steel.
It is crucial that your scalpel is sharp because its primary role is precision cutting.
Scissors
You will use scissors even more often than you use a scalpel. They are the primary tool of the dissection kit, which means their quality should be impeccable.
You will use them to cut skin and tissue.
The trick is to keep the blades at a shallow angle while cutting into an organism. Holding your scissors in such manner will prevent any potential damage to internal structures of the specimen.
Probe
Probes are used to manipulate probe openings and specimens.
Pins
Pins that come in different sizes and shapes will help you position and identify different parts of a dissected organism.
Forceps
You will come across straight and curved forceps in your dissection kit. These are an essential tool because they are used for manipulating and grasping separate parts of an organism during the dissection.
Teasing Needle
Teasing needles are multi-purpose tools used for manipulation, probing, or cleaning the parts of specimens. If you find a dissection kit that comes with many teasing needles, you will feel like you won the lottery.
How to Choose the Best Dissection Kit?
What are the main characteristics a good dissection kit should have?
Here are the three key aspects you should consider:
Stainless Steel
You want the pieces of your kit to be made of stainless steel.
When we say this, we mean the whole instrument, not just the upper part of their body which comes in contact with the organism you are dissecting.
Tools that have stainless steel bodies instead of plastic handles will be more durable, and you will be able to sterilize them properly, without affecting their quality.
Country of Origin
When it comes to purchasing dissection kits, you will come across four most common country of origins – Germany, China, England, and Pakistan.
Germans produce great high-grade, professional medical instruments, which offer fantastic quality but often cost hundreds of dollars for only a few pieces.
When you see the sentence "Made in China" stamped on the label of a dissection kit, stay away from it. The low price might be tempting, but the quality of the product will be poor as well. Their instruments are usually not made of real stainless steel, they are dull and tend to rust.
If you purchase a new dissection kit that is made in England, you might get the best kit ever, but you also might end up with something completely useless. Buying a set from this country is a game of hit or miss, and you can never be sure what you'll get. Most commonly, you will overpay for whatever you chose. So, it is best to stay away from it.
At last, Pakistani dissection kits are amazing! They combine the quality that is close to German with prices that are almost as low as Chinese ones. You can't make a mistake if you go with Pakistani made instruments.
Number of pieces
The first thing you should remember is that the stated number of pieces doesn't mean you will get as many different pieces as it is noted on the product declaration. It means you will probably get half of that number in different dissection tools, and half will be disposable scalpel blades.
Make sure to check the product description, to see what each set includes. This way you will know what you can expect.
If you only plan to use your dissection kit just a few times in classes, you can go with sets that include fewer pieces. However, if you plan to use it for a long time, and different purposes, get a more comprehensive kit that will allow you to perform various operations with it.
Top 5 Dissection Kits on the Market – 2018 Reviews
26 Pcs Advanced Dissection Kit – Premium Quality Stainless Steel Tools – Best for Biology / Anatomy / Botany and Veterinary Students or Teachers
As a nurse, you probably know that if you want high-quality blades, you should look for the instruments made in Germany. This German twenty-six-piece set is made of stainless steel, and it will serve you right for years! It includes fourteen permanent tools and twelve disposable scalpels that will help you learn more about anatomy, biology, veterinary and zoology. Most importantly, the set comes with a lifetime warranty.
This amazing kit has an elegant, matte brushed look. The case it comes in, is durable and has a sturdy zipper, so you don't have to worry about your precious instruments getting damaged. The tools are both lightweight and feel comfortable in your hand.
However, you will find there is no blunt probe in this kit, so you might have to purchase it separately. Also, the bands in the case don't hold all of the instruments as they should, so be careful as you open the case.
Pros
The case is durable, with a sturdy zipper.
The kit has a matte brushed look.
The tools are lightweight and comfortable to use.
It offers enough tools for both students and medical professionals.
The instruments are robust and extremely sharp.
Cons
There is no blunt probe in this kit.
The case doesn't hold all of the instruments correctly.
The knife handles won't fit standard blade sizes.
The magnifying glass is cheaply made.
22 Pcs Advanced Dissection Kit For Anatomy and Biology Medical Students With Scalpel Knife Handle – 11 Blades
All medical instruments that you get in this kit are entirely made of the highest-grade German stainless steel. This means they are rust-free and you can sterilize them without damaging the material. The set includes eleven permanent tools (dissecting needles, operating and iris scissors, scalpel handle, different types of examining forceps, mall probe and groove director) as well as eleven single-use scalpel blades.
If you are looking for addition for your advanced first aid kit, or a set that will help you perform minor surgeries, this will suit your needs. Stainless steel body makes this set easy to sterilize. All of the blades are sharp and precise. If you dot like the set, you can count on a 100% money-back guarantee.
However, not all pieces are well made, some of them seem pretty flimsy. For example, the scissors are a bit dull. Unfortunately, the set doesn't come with any instructions which would be handy.
Pros
It offers eleven extra blades for the scalpel knife.
Ideal for minor surgery, and useful addition to a first aid kit.
Stainless steel handles make the set easy to sterilize.
The scalpel blades are sharp.
The instruments are precise in the application.
Cons
The forceps are a bit small for more substantial dissection needs.
It doesn't come with any instructions.
The scissors are a bit dull.
Some pieces seem flimsy.
20 Pcs Advanced Biology Lab Anatomy Medical Student Dissecting Dissection Kit Set with Scalpel Knife Handle Blades #10 + #11 (Hti Brand)
Here's the list of things you will get in this fantastic twenty-piece-set: curved mosquito hemostat forceps, straight iris and operating scissors, disposable scalpel blades and handle, straight and curved dissecting needle, mall probe and three different dissecting forceps. This is more than enough high-quality instruments for a med student or a nurse, to learn more about the human body.
If you are tired of sterilizing instruments, you will be glad to know that the scalpel blades in this kit are disposable. You won't find a more affordable, yet sharper and more durable set on the market. The portable case is compact, and you can easily place it in your backpack.
Unfortunately, once you place a blade in the scalpel handle, it might be a bit difficult to remove. The zipper on the case is loose, so make sure to watch your fingers. You might find some of these tools too small for large cuts.
Pros
The blades are disposable.
It is affordable and offers more pieces than you need for medical school.
The portable case won't take up too much room in your backpack.
The instruments are high-quality and razor sharp.
All of the pieces seem durable.
Cons
Blades might be a bit difficult to remove.
The zipper on the case is slightly loose.
Your instruments might end up sliding all over the case.
Some tools are misaligned and too small.
Dissecting Set – Advanced Biology Instruments (BSS)
This eleven-piece-set is specifically designed for higher education. It comes in elegant, zippered leatherette case and includes straight and curved dissecting needles, operating and iris microscissors, Halsted mosquito, Adson, and both curved and straight micro Graefe forceps. You will also get two scalpel handles and blades.
It is great how this set has plastic covers on tweezers and forceps. Remember how many times did you poke your hand with a pointy ends on your previous kit. This is a feature you should appreciate. Feather blades will make the set up easier, and the instruments will feel nice and weighty in your hand. At the same time, every piece seems to be durable.
On the other hand, the forceps from this kit might not be the best one for intensive dissection. The bands of the protective case might fail to hold your instruments in place, and the blades will probably fit just one out of two scalpel handles, which is annoying.
Pros
Tweezers and forceps come with plastic covers.
The scalpels are made with feather blades.
The instruments feel weighty and comfortable in your hand.
The set is extremely durable.
The value for money ratio of this product is impressive.
Cons
If you perform the intensive dissection, buy better forceps.
The bands that hold the instruments aren't tight enough.
The blades might fit only one of your scalpels.
It doesn't come with toothed tweezers.
29 Pcs Advanced Dissection Dissecting Kit-6 T-Pins-Biology & Anatomy Tools- Medical Student Instruments – Stainless Steel- Scalpel Knife Handle Blades
If you want a versatile, comprehensive dissection kit, this twenty-nine set might be the one you are looking for. All of the instruments are made of stainless steel, sterilizable and autoclavable. It includes iris and operating scissors, mosquito, splinter tweezer (curved and straight) and teeth dissecting tissue forceps, teasing needles (bunt and with both straight and curved tip), T-pins, groove director, twelve blades, and a scalpel knife handle.
This set will offer you a range of different instruments adept at dissecting all kinds of tissues and structures. The cushioning in the case will hold your tools in place. The fact that it comes with a lot of T pins should be appreciated.
However, the scalpel handle might be a bit rough. If you hold these instruments in your hands for a long time, they might become uncomfortable. To be honest, this set is adequate for med students, but it won't suit the needs of a medical professional.
Pros
The instruments are adept at dissecting different tissues/structures.
Everything is made of stainless steel.
The cushioning in the case holds all of the pieces in place.
It comes with a lot of T pins.
The instruments are sharp, durable and feel comfortable in hand.
Cons
The handle of the scalpel is a bit rough.
After long dissecting sessions, instruments become uncomfortable.
The zipper on the case doesn't close all the way.
Great for beginners and students, but not professionals.
Conclusion
Today, you've learned how to pick the best dissection kit for yourself, and you've seen five of the best models on the market.
Still, we have to pick one that superior to all of the others.
Based on our criteria, the winner is Scientific Precision's 26 Pcs Advanced Dissection Kit – Premium Quality Stainless Steel Tools – Best for Biology / Anatomy / Botany and Veterinary Students or Teachers / Anatomy / Botany and Veterinary Students or Teachers.
This dissection kit is made of high-quality German stainless steel, it has durable enough, sharp pieces to keep anyone satisfied and it comes in a well-made protective case. To top all of that, it is quite affordable.
What do you think about our choice? Do you think some other set would be better? Do you have any questions that we didn't cover in this buying guide?
Feel free to leave us a comment, we will respond as soon as possible.