Studying to be a nurse is a very tough job. Carrying around 30-40 pounds of supplies and textbooks like a laptop, water bottle, clipboard and other medical equipment and supplies every day to school gets seriously old.
What you really need is a good backpack to carry all your supplies and books comfortably all-day long. Fortunately, there are a lot of great backpacks which will make your nursing school experience more comfortable. And as a student, you need something roomier with two straps to distribute the weight and reduce shoulder and back strain evenly.
Since you may not have time to dig through 5000+ options for a nurse backpack, we did you a favor and listed out the top choices of the best backpacks for nursing students.
The Backpacks for Nursing Students Needs – Features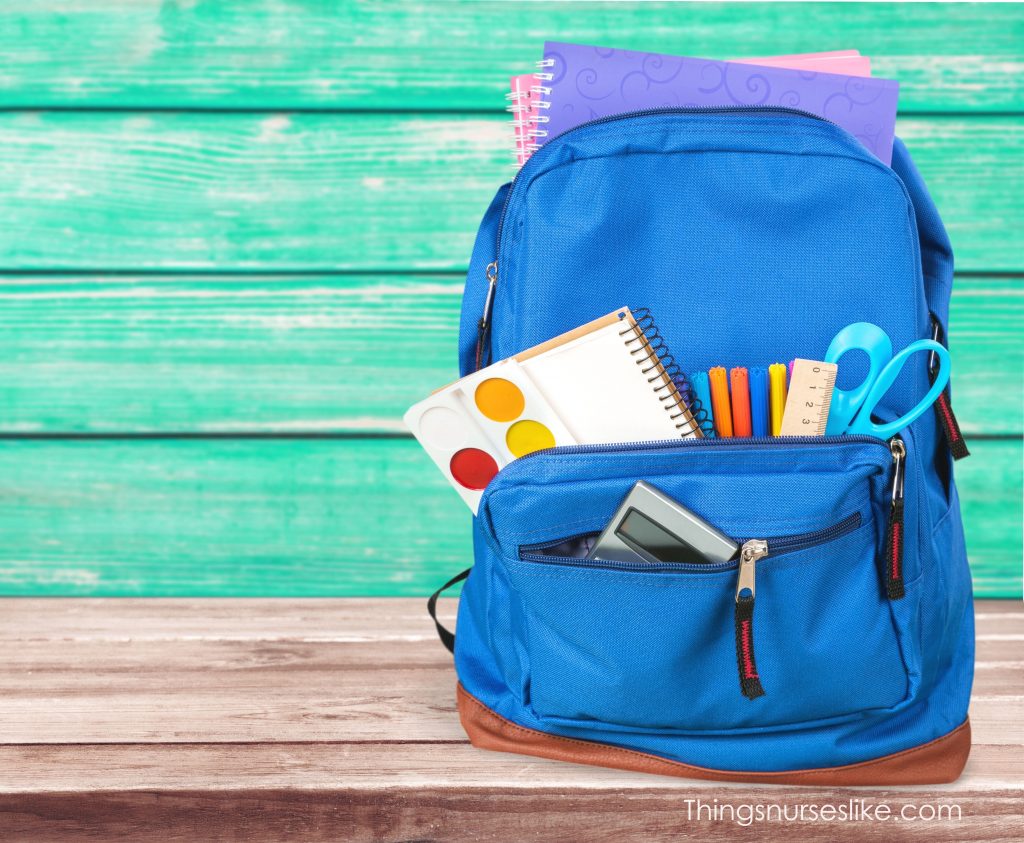 Backpacks come in several varieties, sizes, designs, shapes and have different functions. It can be mind-boggling to decide on the best backpack for you from the various options available. But do not worry – we are here to help you!
When buying a backpack for nursing school, there are some factors that you should evaluate before making the final choice.
Size
Size is a critical factor to consider when you are buying a backpack for nursing school. You should buy a backpack that has adequate extra space and compartments which allow you to carry all your supplies, books and equipment required for the day – that permits you to access things without rummaging around too much.
That does not mean that you have to carry every single book on your own. You should consider what you'd need on any given day and go from there.
If you are interested, you should also check out some of the best nursing equipment on www.thingsnurseslike.com
Support and Confort
The best backpacks for nursing students are ones who are comfortable to carry around the entire day, whether you decide to wear the backpack on your back or to pull it along on its wheels, and ones which offer excellent support.
Dragging or carrying around a bulky and poorly supported bag can be quite tiresome and can cause back problems in the long run; furthermore, you could also injure yourself. So, you have to choose a backpack which offers adequate support to save yourself undue pain and strain.
One of the most often problems nurses deal with is the lower back pain. We believe that proper footwear is an excellent place to start to deal with this problem – you can find the best nursing shoes here.
Durability
The backpack that you buy must be durable and should be able to withstand rigorous usage and last for a reasonable period of time. You can also choose a backpack which is water-resistant, as snow and rain can damage your bag, books and other things if the backpack's material is not weatherproof.
Buying a backpack that is made of durable material can be a little bit expensive; however, you'll be able to save money in the long run as the backpack will last longer, and you won't need to replace it often.
Choosing a backpack with a warranty is often a good idea as it may reduce the risk of losing money due to damage. Go with a well-known brand so that you can be assured of the durability and quality of the backpack.
Function
Make sure the backpack that you select has the right pockets and compartments for your keys, phone, chapstick and other items might also be in order. Carrying a purse and a backpack is a pain, and you want to think of what you might want to have with you at all times to eliminate the need for a separate purse.
Bottom line, think what you are actually going to carry with you, where you will want to locate it and look for those features.
Design
The design of the backpack is an essential consideration as you will be using the bag for a long time. You should choose the backpack that is comfortable and stylish.
Select a color which goes well with your uniform and increases your "cool" quotient. A good looking, stylish and well-designed backpack can go a long way in making you feel great and happy with your buy.
Ok, time to hit our list of top 5 backpacks and review them!
The 5 Best Backpacks for Nursing Students
#1 Jansport Big Student Classics Series Daypack
If you are looking for a backpack which looks and feels like a traditional backpack, then the JanSport Big Student Classics Series Daypack may be for you. It is specially designed for everyday wear and tear.
This 13″ x 16.7″ x 8.5″ Denier polyester-made backpack has a convenient multi-compartment design. The first thing that catches the eye is the size – you would be surprised how much stuff you can fit into one.
The ergonomic S-curve shoulder straps will make carrying the backpack very easy. The JanSport backpack has two main compartments for your laptop and books, a utility pocket in the front and two zippered stash pockets.
This backpack is made of durable polyester and is very sturdy, considering all it has to carry around every day. It also has sturdy straps and it is as comfortable as an extremely heavy backpack can be.
It is available in a wide range of colors.
Some of the notable features
of JanSport Big Student Classics Series Daypack:
Web haul loop
Contoured S-curve shoulder straps for the additional comfort
2 spacious main compartment, 2 front stash pockets with zips and a wholly padded back panel for support and comfort, and front utility pocket for essentials
Pros:
The quality-price ratio is perfect
Durable, high quality and long-lasting backpack for students who carry a lot of notebooks and supplies
It is spacious and comfortable, with multiple pockets
The zippers are rugged and don't fail as others do
Cons:
Some users complained that the backpack is too big
Zippers get stuck from time to time
The straps are a bit too hard
#2 Swissgear Travel Gear Scansmart Backpack
If you want something that is a little more heavy duty than a regular nursing backpack, you might want to consider SwissGear Travel Gear Scansmart Backpack. It is made for those who need to carry a lot from place to place.
This SwissGear's backpack is a fantastic choice for nursing students. It is very spacious and stylish. It has enough space to accommodate your notepads, books, a laptop, mobile phone and other accessories.
It has a spacious and large main compartment, separate compartments for your tablet and laptop, mesh organizers, a separate compartment for your water bottle and many zippered pockets. The polyester material of this backpack is extremely durable and has comfortable shoulder straps which make carrying it very easy.
This backpack is made for the traveler, and it comes with features to keep things dry including its airflow back system that is designed to keep the perspiration away from the bag. It is also equipped with padding in several places including the handle and zippers to keep everything organized and put away.
This backpack is available in many colors such as black, red, black and blue and black and grey.
Pros:
It is made from weatherproof and durable ballistic polyester material
The backpack has a roomy main compartment, separate compartments for tablets and laptops, front pocket for accessories, side pockets for umbrellas, water bottles, large U-shaped zippered front pockets for essentials
Adjustable side compression straps and ergonomic mesh shoulder straps
Back panel with airflow ventilation and padding for additional support and comfort
Cons:
Not enough small zippered sections inside for small miscellaneous items that are often needed
The zippers are not durable
Some complained that the material isn't sturdy enough
Customer service is not professional enough
#3 High Sierra Powerglide Book Bag
The High Sierra Powerglide Book Bag is spacious and has a multi-compartment design. This backpack has a double tube-telescoping handle with an easy-to-store facility. It has a size of 21″ x 14″ x 10″ and sports the WaffleWeave technology – an ultra-absorbent material, yet very quick to dry off.
This backpack can accommodate a 17″ notebook, and it has a large front compartment, several zippered and open pockets for your school supplies and your water bottle. It also features a zippered, media pocket with a port for headphones, removable key fob and triangle clip for a lock or any other accessories.
It is the perfect travel companion when you are hauling a lot of gear, and a multi-compartment and multi-pocket design is excellent at keeping all of your items organized.
This backpack features a fully-padded laptop compartment and is perfect for keeping your tech gear secure. The Powerglide can be used as a roller bag, or you can use the hidden backpack straps for another carry option when the terrain gets rough.
It also comes with reflective strips for night safety. The Powerglide Book Bag is available in many colors like red, blue and black.
Pros:
Spacious and multi-compartment design
It features smooth, corner-mounted wheels for easier moving
Ergonomic and adjustable VAPEL mesh padded shoulder strap
Flush-mounted, double-tube handle with easy store feature
Cons:
It is the most expensive of the reviewed backpacks
The wheels tend to get off their axle if you try to make tight turns
This backpack lacks multiple height placements on the handle shaft
It is not suitable for the rainy conditions – the two openings where the handle enters the large compartment are
large and water streams inside easily
#4 Under Armour Hustle Backpack
This Under Armour backpack is a large and high-quality backpack that is spacious enough to hold a 15″ laptop and other electronic devices. The cubic volume capacity is 1875 so you can take all the things you need along with you.
The backpack has four external pockets and one internal slip pocket. It also has two side pockets for your water bottles.
The backpack has padded and adjustable shoulder straps for additional comfort. It is made of a durable polyester material with an Under Armour Storm Gear DWR finish which makes the backpack waterproof and breathable.
It is also padded in the back area which provides extra back support and protects your back muscle from fatigue and strain.
It comes with comfortable padded shoulder straps is very convenient when carrying heavy loads, and is also very practical. You can wear it as a backpack or carry it thanks to the grab handle located on the top of the pack.
This backpack is available in a variety of beautiful colors.
Pros:
It is made of 100% polyester material, and UA Storm technology makes it water-resistant
Spacious storage area with many storage compartments to organize smaller items. It provides easy access to the things that you need quickly
The backpack features abrasion-resistant, robust bottom panel
HeatGear shoulder straps that can be adjusted for extra comfort
Cons:
A soft laptop sleeve isn't durable enough for slightly bulky laptops
Some complained that the quality isn't very good
The side pouches aren't easily accessible when the bag is worn on the back
It gets a little steamy on hot/humid days as there is no breathing space between the back and the bag
#5 Herschel Supply Co. Pop Quiz Backpack
This 16″ x 13″ Herschel Pop Quiz Backpack is made of canvas material, and it has a clean design. It comes in a classic shape that is slightly tall and skinny and can hold a decent amount of gear.
The backpack is highly functional and has a spacious main compartment and 15" padded laptop slot which is lined with fleece. It also features an additional front pocket for your accessories. There are actually four different sections which aid organization inside.
The backpack features a heavy-duty bottom, the classic Herschel logo which adds to its stylish look and a white front zipper. It also features padded shoulder straps which are adjustable and can help you achieve the level of comfort you want as well as a great fit.
Zips are hidden away underneath concealed zipper flaps and that keeps the backpack looking nice and clean.
If you are a student that likes to travel light, keep things simple and look good, this backpack is an excellent choice. It would also suit anyone who travels by bicycle or by public transport as things are easy to access and find in the external stash pockets.
This minimalist and a stylish backpack are available in many color options including gray, black, tan, navy, plaid, etc.
Pros:
It is durable and high quality, made of 100% polyester
The backpack is sturdy, well-built and waterproof
It is quite comfortable
A simple design with the right amount of storage space to keep you from overfilling it and killing your back
Cons:
Zippers are a little tough to move
No exterior water bottle holder
Somewhat small size
Adjustable straps are a little bit hard to work with
Verdict
Carrying between 20 and 40 pounds of textbooks on a daily basis is no easy feat on your back. You cannot put a price on convenience and your well-being.
Ok, we have reviewed all the products- the competition was tighter than ever, but after considering all the features, pros, and cons of all reviewed items, our top pick is JanSport Big Student Backpack, as it meets the most of the features, you should look for.
It is very well-made, durable, has a lot of space for all that nursing students need, and it is also the cheapest one.