Medical professionals who draw blood know that it can be very difficult to locate a vein in some patients. The elderly, children, and persons with dark skin are a challenge for nurses and paramedics doing venipuncture and cannulation. Without using a vein finder, at least a quarter of all patients require additional sticks, and that's stressful for them and their caregivers.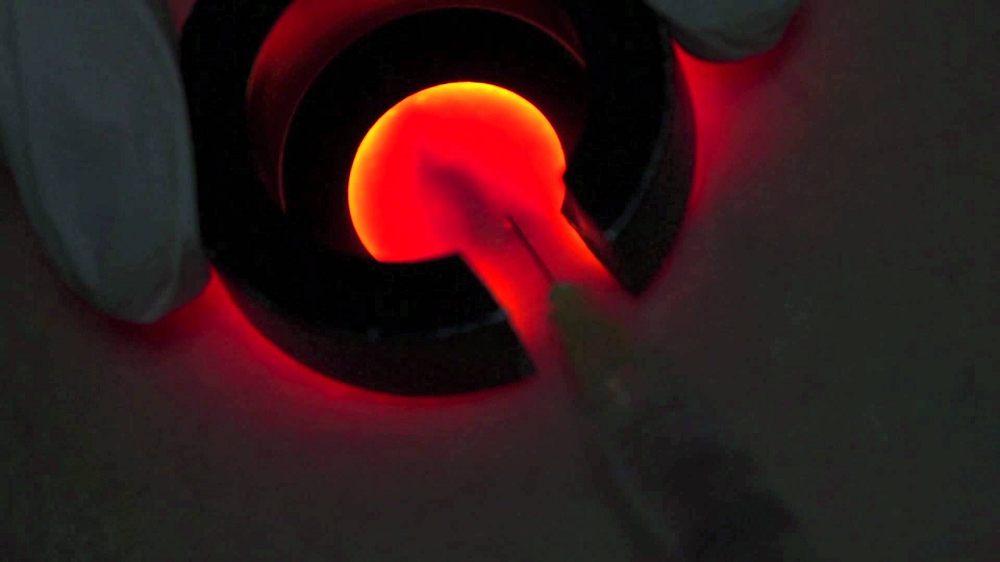 Vein finder devices drastically reduce the amount of time it takes to find a vein. They eliminate wasting needles, syringes, PICC and midline trays on stick after stick. They are non-invasive because all they do is make use of light so you can see veins in subcutaneous tissue.
Active devices use red and infrared light to fluoresce hemoglobin in the blood. Passive devices alter the qualities of visible light to make veins easier to see. Let's take a look at the top vein finder devices on the market to see which one is the best for you.
How does a vein finder work?
Have you ever shined a flashlight through the skin of your hand? It makes it easier to see your blood vessels. Of course, this method doesn't work on areas with thicker tissue and muscles like arms and legs.
A vein finder shines infrared light that penetrates a few millimeters into the skin. Since infrared is part of the spectrum that our eyes can't see, they usually add in red light so the user can see if the device is functioning.
The infrared is absorbed by hemoglobin in the blood. This in turn "highlights" the superficial vasculature. This works even on dark-skinned patients. Normally the user needs to perform the procedure in a darkened place.
Passive vein finding devices are simply light filters usually in the format of sunglasses. They alter the color of visible light so that the wearer can see veins more clearly. These glasses need to be used with powerful illumination for best results.
Now that you know how they work, let's review the best vein finder devices. We'll begin with passive devices. These are very helpful for EMTs as they do more than just assist in finding veins.
Passive Vein Finders
We call these next two devices passive vein finders because they don't need any batteries or electrical power to work. The only thing you will need is strong enough light.
O2Amp Paramedic Vein Glasses
They look like a nice pair of sunglasses, and they are. The EMT Vein Glasses protect the wearer from the sun's UV rays. They also help the user see superficial vasculature, detect blood oxygen levels, view rashes, and determine if the patient has cyanosis. The manufacturer says that their lenses make "veins appear to fluoresce." That way the first stick is the only stick.
The Paramedic Vein Glasses can be worn every day. They aren't harmful to the wearer's eyes even worn all day long. They are impact-resistant, with anti-static, anti-fog, and anti-scratch coatings.
There is one very important thing to remember: these glasses work best under bright sunlight or a strong indoor light. It's best if you have a strong flashlight or portable lamp available if you're working at night. Put them on a few minutes before you need them so your eyes can adjust.
The only con with the vein finder glasses is if you already have prescription eyewear. In that case, contact O2Amp to see if they can ground your prescription for you. If all else fails, O2Amp says that some users have been able to fit these glasses over their own.
If you happen to be colorblind, O2Amp also makes a version for you. See their description below.
O2Amp Oxy-Iso Colorblindness Correction Glasses
O2Amp also makes vein finder glasses that work for colorblind wearers. This is a very helpful option. They feature a quote from a user who identifies himself as a surgeon. He said that when he wears the Oxy-Iso glasses, he can instantly distinguish between blood and bile, plus he can see if the patient is especially pale or flushed.
Besides their special coloration to correct colorblindness, the lenses are made to resist scratches and breaking. They protect against UV rays and have an anti-fog coating, too.
Why choose passive vein finder devices?
After researching the vein finder devices above, we were convinced that they are very handy to have. Even if you already have an active vein finder device, paramedic glasses are an excellent addition to your everyday equipment.
They are small and light and easy to carry around, or they can be worn just like regular sunglasses. They help detect more than just veins because they promote accurate viewing of a patient's overall well-being. We recommend adding a pair to your medical kit.
Now let's move on to powered vein finders to see which of them would be the best helper for your work.
Active vein finders or powered vein finders
The following devices all need power of some kind to operate. Many of them are more effective if you use them in darkened settings or dim light.
Veinlite's Vein Finder Adult and Pediatric EMS Pro
Veinlite is one of the top companies that manufacture vein finders, and their EMS Pro is one of their top of the line portable models for finding superficial vasculature. We were excited to discover that it's for sale to the public as well as medical professionals.
The EMS Pro is affordable, portable, and a flexible tool that works on both children and adults. It takes no time at all to use or calibrate as it has just an on/off switch.  You'll never need to worry about running out of power unexpectedly as it runs on two AA batteries. Simply bring extra batteries with you.
Portable and easy to power
Each set of AA batteries you insert should last from 3 to 5 hours of continuous use. There is a small LED embedded below the power switch. When the batteries are getting low on charge, the LED light will shift from green for good to orange for low power. If it begins blinking red, it's time to change the batteries as there is only about an hour of operating time left.
Easy to use
The EMS Pro looks like a fat, rounded letter Y. The arms are designed to encircle the area where you're seeking a vein. They have twenty-four LED bulbs embedded in them that give off a bright white light.
Just so you can see how simple this tool is to use, here are the directions.
When using the Veinlite EMS Pro vein finder, follow these steps:
If you're working on a pediatric patient, use the included adapter to limit the size of the opening
Place the EMS Pro with light pressure against the skin perpendicular to the direction of the vein
Slide it forwards and backwards slowly until you see the vein you want
Rotate the device a quarter turn until it's parallel to the vein
Press down to secure the location and push back gently to stretch the skin
Insert the needle into the vein between the rounded arms of the device
Safety recommendations
There are a couple of recommendations for using the EMS Pro safely. One, use disposable plastic covers and germicidal wipes because the vein finder touches the patient's skin.
Two, don't use alcohol to clean the EMS Pro device because this will damage the clear plastic window protecting the lights. Over time, wiping it with alcohol will make it look fogged-over and the light will be weakened.
If you like the EMS Pro, but are concerned whether it's the most effective for dark-skinned individuals, take a look at the LEDX described below. Its mix of colored LEDs penetrate deeper to better locate veins on both obese persons and those with dark pigmentation.
Veinlite LEDX Adult Transilluminator Vein Finder
Veinlite's LEDX Transilluminator Vein Finder is probably the very best one on the market for using on patients who are obese or dark-skinned. It's made for adults, not children. Veinlite says it is excellent for users who practice sclerotherapy treatments and vascular surgery. It's been cleared by the FDA and has a CE certification for safety.
The powerful LEDx has thirty-two bright LEDs embedded around its large opening. There are 24 orange lights and 8 red. This color combination is very effective for seeing deeper veins even if the skin is thick or dark-colored.
The one downside to the LEDX, in our opinion, it its rechargeable Lithium-ion (LiPo) battery. Although the battery is user-replaceable, it's only good for about 500 cycles (or full recharges). The LEDX will run between 130 and 160 minutes of continuous use before it needs a recharge.
It lasts about three years before you'll have to buy a new vein finder. Of course, this could mean you'll upgrade to an even more advanced model in the future.
It's nice to have a powerful and reliable vein finder for adults, but what about for children? Check out the Veinlite models below as well as the EMS Pro above.
Veinlite EMS Adult Baby Transilluminator Vein Finder
Like the LEDX, the Veinlite EMS Transilluminator helps you see veins with light from red and orange LEDs. It has half the number of lights that the LEDX has (16 compared to 32), but that makes it less expensive to buy.
This model is better at revealing vasculature in thin-skinned zones like the scalp, forearms, and legs. It comes with an adapter that reduces the size of its opening to make it better for use on pediatric patients. In fact, you can shine it through a hand or foot of an infant just like you can a WeeSight.
Current users recommend operating this vein finder in a darkened room so veins are easier to see. It's simple to use with only an on/off switch to control. Just use the steps we described above for the EMS Pro.
The EMS Transilluminator runs off two AA batteries for up to of 6 hours of continuous use. As much as we love rechargeable batteries, we prefer the ability to quickly swap batteries in the field without having to find a way to refill the dead ones.
So far, we've covered the best portable models offered by the company Veinlite. But they aren't the only choice available. Here is a popular vein finder device from a competitor.
Venoscope II Transilluminator Adult and Baby Vein Finder
The Venoscope II Transilluminator is an affordable vein finder that uses the power of the red spectrum of light to reveal vasculature. It works on both adults and children without the use of an adapter. Plus, it functions well if your patient is obese or dark-skinned.
The three position switch offers you both high and low power settings. Other than that, it works the same as the other active vein finder devices we've covered above. Press it gently on your patient's skin to locate the vein you want. Then insert the needle in the opening between the arms and into the skin.
The Venoscope II runs off three AA alkaline batteries and has a low battery light indicator so you know when it's time to change them. The device doesn't get too hot even after continual use. In case you have any problems, Venoscope covers this device with a 1-year warranty.
Plan on dimming room lights when you use the Venoscope II so you can see better. It doesn't work well if you have too much illumination. Also, it's easier to locate veins in tissue with at least some fat, not so much in bony areas.
If you feel like these portable vein finders are a bit more expensive than you want to pay, there is another option we'll review below. It's less than half the price of most of the ones above, but does it really work?
Illumivein Portable Red LED Light Vein Finder Transilluminator
We would understand if you mistook the Illumivein Portable Vein Finder for a Maglite flashlight. The price isn't even all that different. But instead of bright white light, the Illumivein glows with the power of nine red LEDs.
The red LEDs cause veins and blood vessels to appear as shadows on the skin of the patient. Of course, you need to use the Illumivein in a darkened room and hold it very close to the skin. Move it slowly side to side until you see the vein you want. You may need to raise or lower the light until you see clearly enough.
It runs off 3 AAA batteries and does not come with a warranty. But at this price, you can probably just buy another one if you need it.
Users give mixed feedback over its effectiveness on individuals that are obese or that have dark skin. Some complain that having to lift the light in order to do cannulation makes it easy to lose your place. They recommend marking the inject point on the skin before you remove the light.
Wee Sight Transilluminator by Philips
If you work in pediatric care, you may have heard of or seen the Wee Sight. It's a tiny device that uses powerful red LEDs that emit 629nm light to illuminate veins in neo-nates and infants. Head on over to the newborn ward and count how many of these you see accompanying the nurses there.
The strong LEDs don't get hot so they don't hurt a baby's tender skin. To use the Wee Sight, lay the flat side down on a table or the bed, or hold it in your hand. Drape the infant's limb, hand, or foot over the device. Just like shining a flashlight through your hand, you'll see the baby's veins as dark lines.
The Wee Sight runs off two alkaline AA batteries. Its LEDs are long-lasting and should work for years without failing.
Ultrasonic vein finders
You may know about ultrasonic vein finders. One well-know manufacturer is BARD Access Systems. They make tip confirmation and location systems and needle guidance systems, too. Their Site-Rite models are used in a lot of hospitals.
The ultrasound reveals not only vasculature but also surrounding tissues and organs. It helps surgeons determine the correct catheter size to use as well as the trajectory of the needle. This is especially helpful when placing a PICC (intravenous catheter for long-term use like in chemotherapy).
Ultrasound imaging technology is much more powerful, and usually much less portable, than a handheld vein finder, and it goes beyond what we wanted to cover in this review today.
Accessories for your vein finder
If you're using a vein finder as part of your profession on a variety of patients, please do plan on purchasing the disposable slip covers that manufacturers sell. They are made to protect against cross contamination, among other things.
If you are using a vein finder only on yourself or one patient, get advice on whether disposable covers are necessary for you to use. Please also follow the manufacturer's instructions on how to clean your vein finder so as to not damage it. Most of the time that means you can't clean the lighted area with alcohol but must use a gentle germicidal wipe instead.
Here are some of the most common accessories you'll need when using a vein finder and performing venipuncture and cannulation.
Illumivein Disposable Covers 50 Pack
These non-sterile slip covers are made for the Illumivein, the vein finder that resembles a flashlight.
Veinlite Plastic Covers for EMS Box of 50
Veinlite makes non-sterile covers for the EMS series of illuminated vein finders.
Adult Venoscope Disposable Covers
The Venoscope disposable covers are non-sterile and latex-free. They come in a box of 50.
Metrex CaviWipes XL MCK44816700
The Metrex CaviWipes use Alkyl dimethyl ethylbenzyl ammonium chloride and a low amount of alcohol to kill Tuberculosis, HIV-1, HBV, HCV, H1N1, MRSA, Salmonella enterica, and E.coli. They are good for wiping up body fluids but should be utilized while you wear gloves. Since they have a 22.5% concentration of alcohol, they may not be ideal for cleaning your vein finder device.
Clorox Bleach Germicidal Wipes Tub – 6″ x 5″, 150 Count
Of course, bleach is the ultimate germicidal solution. Again, don't plan on using these wipes without wearing gloves. They can irritate your skin.
Medline Sharps Container Biohazard Disposal Needle, 32 Ounce
Safely get rid of any used needle with this sharps container. It holds up to a quart. The clear top helps you see when it's getting full.
Disposable Tourniquet 1″ x 18″ Latex-free, Pack of 10 from Cardinal Health
These are just the typical temporary tourniquets every medical facility has on hand.
Dynarex 1113C Latex Free Sterile Alcohol Preparation Pad (Pack of 2000)
Swipe the skin with an alcohol prep pad before you inject.
Nitrile Exam Gloves – Medical Grade, Powder Free, Latex Rubber Free, Disposable, Non Sterile, Food Safe, Indigo (purple) color, Convenient Dispenser Pack of 100, Size Medium
Protect yourself with these disposable gloves.
Johnson & Johnson Band-Aids, Flexible Fabric, 100-Count Boxes
Here is a box of 100 flexible fabric bandages perfect for covering up a puncture site when you're done drawing blood.
Sponge Curity 2's Gauze Sterile Cotton 2×2″ 8ply, 100 Per Pack Part No. 1806 by Kendall Company
These cotton pads come two to a pack.
PROVON 5182-03 Green Certified Foam Hand Cleaner, 1250 mL FMX-12 Refill (Case of 3)
Here is a hand cleaner that will kill bacteria without ruining your skin.
Venepuncture and Cannulation 1st Edition Book by Sarah Phillips, Mary Collins, and Lisa Dougherty (editors)
Get an excellent overview of how medical professionals perform these essential procedures.
IV Starts for the RN and EMT: RAPID and EASY Guide to Mastering Intravenous Catheterization, Cannulation and Venipuncture Sticks for Nurses and Paramedics from the Fundamentals to Advanced Care Skills
Like it says, this is a rapid and easy guide to doing sticks. If the scholarly tome above is a little too much information right now, try this quick read.
Phlebotomy Training Course & Venipuncture Practice Kit
Practice makes perfect!
Recommendation for how to select the right device for you
As we reviewed all these different vein finding devices, we came to the following conclusions.
Veinlite sells some of the best vein finders on the market. Although they have a higher price, they are worth the cost because they are easy to use and effective. The only difficulty is choosing the best one for your particular set of patients. We'll discuss that in a moment.
The Venoscope II was a close runner up because it works for many patients regardless.
The Wee Sight is best suited for infants.
The Illumivein is an inexpensive device, but it's harder to use. There is no opening for the user to be able to make the stick without first removing the device, raising the risk that the found vein will be lost in the process.
Vein finding glasses are a useful accessory for any medical professional because of their versatility. We'd happily purchase a pair of these as well as a powered vein finder device.
How to choose between Veinlite models if that's the brand that you like best:
The Veinlite LEDX Transilluminator is the most powerful portable model in this review. It works well enough for sclerotherapy treatments and vascular surgery as well as phlebotomy. It's great for patients with dark pigmentation or who are obese.
The EMS Pro is appropriate for both adult and child patients. It uses white light to help you see veins.
The EMS Adult and Baby Transilluminator works on a wide range of patients including obese people and dark-skinned persons. It's half as powerful as the LEDX, but plenty good enough for phlebotomy.
Safety for you and your patient
We noticed that other articles reviewing these types of devices include safety tips for drawing blood and cannulation, or placing IV tubes. While we realize many of our readers are medical professionals who will skip over this section because they are already familiar with these steps, we're going to include some helpful information here for anyone who wants to review it. This is not medical advice, but counsel derived from medical sources.
Always always always find out a few things about your patient before you treat them. (Please don't try treating an unconscious person if you aren't a medical professional and/or you don't know the patient.) Ask your patient:
Do they have a blood borne illness like HIV or hepatitis?
Are they a MRSA carrier? (It lives on their skin.)
Do they have blood that's slow to clot, perhaps because they take blood thinners or have hemophilia?
Were they ever told about a spot where they shouldn't have blood drawn, like because of an earlier surgery or wound?
Seat your patient or have them lie down in case they faint.
Wash your hands and wear protective clothing like gloves and disinfect the injection site on their skin. Use disposable slip covers on your vein finder.
Release any tourniquet BEFORE you withdraw the needle from their skin.
Discard needles in a sharps container and dispose of your gloves. Wash your hands again.
Here are two videos to help you get better acquainted with the process. One is about cannulation or inserting an IV. The other is about general venipuncture, or drawing blood.
OMG, what if you stick yourself by accident with a used needle??
Don't panic. Take a deep breath. Go wash the injected area immediately with soap and water. Make yourself bleed more to expel anything that might have entered your skin. Make sure you know the person's name and contact information in case you need it later. Go see your doctor.
What if blood spills? Or the person is bleeding a lot?
Let's hope you can handle the sight of extra blood. Take a deep breath and stay calm. Help the patient stay calm by speaking to them in a soothing tone. Things like this happen if you forget to release the tourniquet before you take out the needle.
Make sure the person who is bleeding stops bleeding. Put pressure on the wound or puncture site with sterile gauze. Once their bleeding is under control, then you can clean up the mess.
If you've just knocked over a specimen tube, check two things. First, is your patient going to have a bad reaction from the sight of their blood spilled? Take care of them first.
Second, will you need to do another draw? Depending on your patient and the state of the spill, it might be wise to clean it up first before you take blood again.
How to safely clean up spilled blood—Don your gloves and wipe up all the blood that you can with a disposable paper towel or the like. Dispose of the wet towels in a safe place, like a biohazard bag.
Use a fresh solution of one part bleach to ten parts water. Make sure you're still wearing gloves because bleach is hard on skin. (Use 5.25% real chlorine bleach, not something that says bleach but is color-safe and whatnot. You can also use a bleach wipe like the Clorox ones in the Accessories section above.) Leave the solution sit on the blood stained area for 10 minutes before wiping and drying the area. If you used a wipe, swipe it but don't dry it. Let it air dry.
Please note that bleach loses its power to disinfect over time and with exposure to sunlight, so making fresh mixtures each day is safer. Bleach is one of the best tools in the fight against the Ebola virus, so you know it's a powerful thing to protect you, too.
Other useful tools for medical professionals
We discovered other helpful accessories for medical professionals as well as home users.
Opoway Nurse Penlight LED White Medical Pen Light with Pupil Gauge Measurements
Sometimes you need to assess someone's health in a hurry. Here is a very useful penlight that's marked with a pupil gauge on the side.
3M Littmann Classic III Stethoscope
Here's one of the best stethoscopes you can buy. It's durable, it works on both adults and children, and it's easy to clean.
MDF Calibra Aneroid Sphygmomanometer – Professional Blood Pressure Monitor
Hand-crafted, stress-tested, and calibrated five times before reaching your hands is this accurate and dependable blood pressure monitor made for adults.
Braun Ear Thermometer
Braun thoughtfully pre-warms the ear tip so your reading is accurate every time.
Acc U Rate Pro Series CMS 500DL Fingertip Pulse Oximeter
Measure blood oxygen saturation levels and pulse rate in just ten seconds with this oximeter.
Dagacci Scrubs Medical Uniform Women and Man Scrubs
Available in a wide variety of colors and sizes, these poly-cotton scrubs from Dagacci are loaded, top and bottom, with pockets.
Dansko Women's Professional Clogs
You've seen them on the feet of nurses, doctors, techs, and even restaurant chefs. Now you can have your own super-comfy pair of Danskos.
Conclusion
If venipuncture is a regular part of your job, or if you have frequent treatments to perform for someone like a hemophiliac, a vein finder is definitely worthwhile investment. We hope our review today helped you decide which vein-finding device is the best one for your needs. Besides, we have written about some other devices to track the crucial elements of the health condition such as oxygen level and blood pressure. Let's have a look to know why you really need them in your house.