Every parent wants only the best for their child – that goes without saying. However, why not get something that both you and your baby could benefit?
Yes, I'm talking about buying the best nursing pillow.
Feeding sessions are hard work – every mother knows that – so if you can do something to make it a lot less frustrating, why wouldn't you?
If you're interested in learning more, keep on reading!
Benefits Of Using A Nursing Pillow & Why You Need One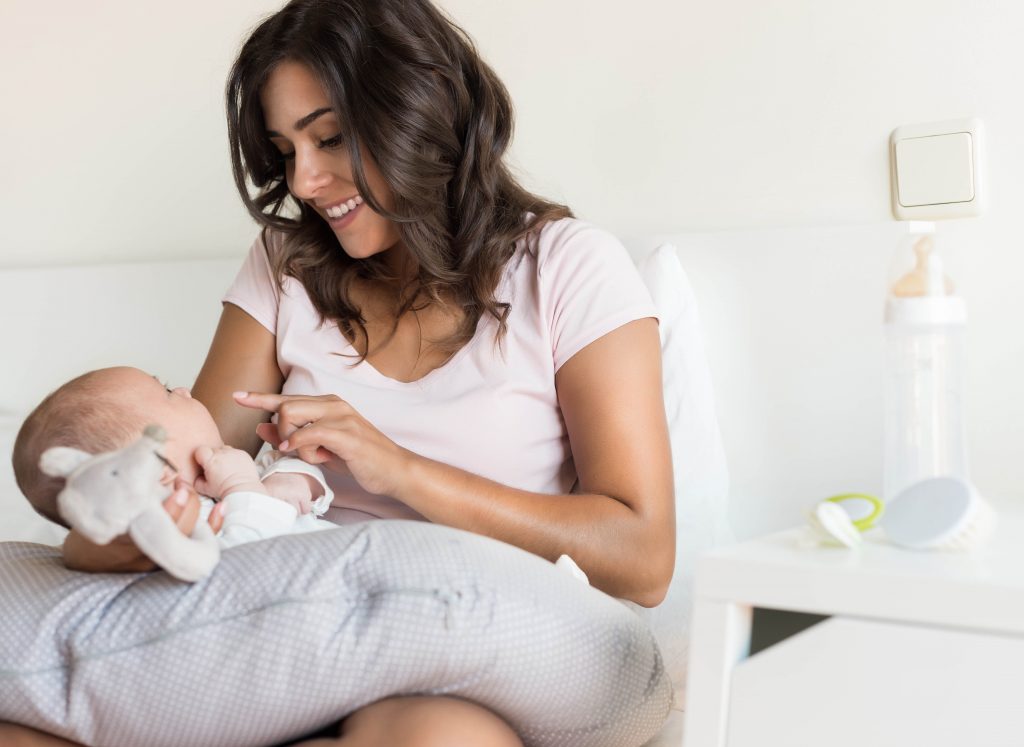 You might be thinking:
Women have breastfed children for thousands of years, none of them having the option of using a nursing pillow – and they did just fine. So, why would I need one?
It's a legitimate question – one most mothers have when someone brings up the subject of nursing pillows. I get it – you're probably feeling overwhelmed with all the "must-haves" for raising a baby, and at this point, nursing pillows seem more like a luxury, than an actual necessity. The list of "must-haves" has to end somewhere, right?
I mean, between all the diapers, ear thermometers, strollers, car seats, and bags big enough to fit everything, it's hard to find room in your budget for a nursing pillow.
And all I can say is:
You won't know how helpful these pillows are until you try one for yourself.
On that note, here are a few good reasons why you should consider investing in the best nursing pillow both you and your newborn baby will love:
 You're The One Doing All The Work – To be fair, newborns don't weigh much, but by the time you hit the 30-minute mark of your feeding session, and your muscles start to get fatigued, you'll feel like your baby gained ten pounds instantly.
It's no wonder – you're the one supporting your baby's head, holding her, and making sure she's in the right position for a proper latch.
It's a lot of work for a pair of hands, okay?
 Breastfeeding Takes Time – Did you ever try to do the math behind breastfeeding? An average newborn will eat 8 to 12 times day, with each feeding session lasting for up to 45 minutes, which quickly adds up to up to 8 hours of breastfeeding a day.
And without a nursing pillow, during those eight hours, you'll go from being mildly uncomfortable to beyond-belief tired.
 You'll Need Some Support – After you first have your baby, the back pain that haunted you throughout the late pregnancy might not go away. Sadly, you won't have the luxury of taking a few days for yourself – you have a baby to look after – so, relieving the strain on your back, shoulders, and neck by using a plush nursing pillow with lumbar support is the next best thing.
You have all the facts now – put two and two together, and you'll quickly see why more and more mothers around the world think of nursing pillows as their best friends and allies when it comes to breastfeeding.
How To Pick The Best Nursing Pillow: Things To Consider
There are several things to keep in mind when you start your search for the best nursing pillow – here's a little guide to help you out in your search!
How Long Do You Plan On Nursing?
If you plan on breastfeeding your newborn for a couple of months only, there's no point in spending big bucks on high-quality nursing pillows.
However, if you wish to continue nursing throughout the first year of your baby's life, be prepared – invest in a durable nursing pillow your child will grow into, and not outgrow it, instead.
All Those Shapes
There's more than one shape to choose from – here are the three most common forms you'll run into when you start your search for the best nursing pillow:
C-shaped nursing pillows fit most body types, and provide ample arm support, regardless of how you're holding your child.
O-shaped models wrap around your entire midsection and are known for providing plenty of lumbar support.
Crescent-shaped pillows are growing in popularity – more and more mothers are opting for these pillows that wrap around their side.
Fit
The "one pillow to fit them all" rule doesn't apply here. I mean, it does, but only to a certain extent – you'll have to factor in your size and shape if you want to find one that fits just right. Here's why the perfect fit is so important:
You want your newborn to stay as close to you as possible, but at the same time, they have to be at the right height to latch correctly – a nursing pillow that doesn't fit right won't provide any of those things. Plus, a wrap-around that doesn't fit will make you feel uncomfortable when it starts pressing into your back.
Versatility And Portability
You'll find that, with most baby equipment, it's all about versatility – and nursing pillows are no exception. Ideally, the best nursing pillow should help your child learn to sit up, and be used for tummy time, too.
Also, make sure it's compact enough for you to pack it up and bring along on family trips.
Cleaning Should Be A Breeze
Between spills and all the spit-ups, feeding sessions tend to get pretty messy, so you're going to spend a fair amount of time cleaning up, too.
And since taking care for a baby is enough work as it is, make things a bit easier on yourself by picking a nursing pillow that has a removable – and machine-washable – cover.
Top 5 Best Nursing Pillows On The Market – Reviews
1. Boppy Nursing Pillow and Positioner – The Bare Essentials
The Boppy nursing pillow has over 25 years of experience in the field of making feeding sessions easier for moms, dads, and babies around the globe. That alone says a lot about the pillow's overall quality!
And yes, it's a breastfeeding pillow, but at the same time, it's capable of taking on several other roles. So, besides making feeding sessions a lot more comfortable, it also works for tummy time, propping and helping your baby learn how to sit up, as well as casual lounging on the floor. Moms can use it as a pillow for back support, too, so it's a win-win!
Plus, it's super easy to clean! What more can you ask for from a pillow?
However, all the fun covers for this pillow are sold separately. Making your own is an option, though – you'll add a personal touch to the pillow, and save up some money along the way.
The real issue is the Boppy's round top surface. You're going to have some trouble keeping the baby in position – either the pillow will slip away from under your infant, or the baby will end up rolling around.
Pros:
Miracle Middle stretch panel fits most waists
Offers a wide range of uses
The entire pillow is machine-washable
Fairly durable
Reasonably priced
Plenty of covers to choose from
Cons:
The covers sell separately
The rounded surface causes infants to roll around
2. My Brest Friend Original Nursing Posture Pillow – The OG Among Nursing Pillows
My Brest Friend nursing pillow – the original, that is – brings something a little bit different to the table. The wrap-around style combined with an adjustable strap not only provides a more secure fit and eliminates the need for frequent re-adjusting, but fits most waists, as well. You'll get that perfect latch-on position every time!
Furthermore, it encourages proper posture and leaves enough space for you to rest your arms – with My Brest Friend, breastfeeding can be a comfortable, pain-free experience for both the mom and the baby.
Most importantly, the pillow's surface is flat and firm enough to prevent your baby from rolling around on it or slipping off entirely.
Now, you'll have to sacrifice something to get a pillow like this. That's right; I'm talking about portability – the nursing pillow takes up a lot of space, making it a less-than-ideal choice for traveling.
There's one other issue I feel like I need to mention – there's no waterproof layer between the somewhat thin fabric cover and the foam. Babies tend to spit up a lot, so you can imagine how disastrous that can be without a waterproof layer to protect the foam pillow.
Pros:
Helps with back pain and arm fatigue
Flat surface keeps your baby close to you
Has a convenient pocket for maternity supplies
The wrap-around style fits most waists
The cover is machine-washable
Cons:
Doesn't have a waterproof layer
Takes up a lot of space
3. All American Collection New Comfortable Bamboo Nursing Pillow – The Travel-Edition Nursing Pillow
Next on my list is the All American Collection Bamboo nursing pillow – a soft, lightweight, and portable model made for moms on the go. If your family is all about frequent outings and traveling the world with a baby on board, I'm pretty sure this is the best nursing pillow for the job.
Another thing to love about it is the fact that it's fully machine-washable thanks to the microfiber-filling – I'm not talking about the cover, I'm talking about the entire pillow. Cleaning up after meal-time gets super messy has never been easier!
All this comes at a certain price, though – the fact that the pillow is so lightweight also means it's not as sturdy as some other, heavier models. Here are the two main issues I've encountered regarding sturdiness:
It seems like the pillow isn't firm enough to hold its shape under the baby's weight – it starts bending right in the middle. As a result, you're in for a lot of adjusting throughout every feeding session.
That said, if having a portable nursing pillow is a deciding factor for you, the All American Collection Bamboo pillow is the way to go.
Pros:
The cover combines bamboo and polyester for softness
Lightweight and portable
Both the pillow and the cover are machine-washable
Offers a wide range of uses
Cons:
Requires a lot of adjusting
It's not firm enough to hold its shape during breastfeeding
4. The Twin Z Pillow – A Must-Have For Parents Of Twins
Everyone knows tandem feeding is the best possible option for twins. But at the same time, every mother that's ever breastfed a baby will tell you it can be an exhausting experience with one, let alone two babies on your hands.
That's where the Twin Z nursing pillow comes to play!
The design is simple – it's pretty much like sewing together two horseshoe-shaped pillows. What makes it unique, though, is the middle section. It presses against your lower back, and provides plenty of support, making the entire experience of breastfeeding two babies at the same time a lot more comfortable.
Furthermore, the 6-in-1 design concept offers plenty of versatility, both regarding feeding positions, and supporting your babies when they're just lounging around after their afternoon meal.
The soft, cotton cover is removable, as well as machine-washable, which is a great thing – two newborns make a hell of a mess!
However, you have to keep in mind that, as a nursing pillow made for twins, it's by no means a lightweight – or compact – option. This thing packs a staggering six pounds of weight.
Also, it's quite expensive – but there's nothing cheap about raising twins, anyway, right?
Pros:
The 6-in-1 design offers plenty of versatility
Makes tandem nursing a lot easier
Outstanding back support and overall comfort
It feels soft, yet sturdy
The cover is removable and machine-washable
Cons:
Fairly expensive
Not suitable for traveling due to its size and weight
5. My Brest Friend Deluxe Nursing Pillow – The Much-Needed Break For Moms
Lastly, I want to talk about another My Brest Friend nursing pillow, but this one is the Deluxe model – and trust me; it does live up to its name.
Breastfeeding is an exhausting endeavor and one that will likely cause you to slouch. The wrap-around design and a secure fit (thanks to the silent-release buckle and a Velcro strap) ensure you have all the support you might need.
You'll notice the muscle soreness throughout your body after every feeding session will reduce significantly!
Your baby will love the super soft, plush feeling of the cover. You, on the other hand, will enjoy the supportive, yet comfortable nature of the foam filling, and the fact that the cover is easily removed and machine-washable.
And don't worry; it will stay soft even after frequent trips to the washing machine.
While I appreciate the fact that they tried to make a nursing pillow you can put on using only one hand – I swear, sometimes it seems new mothers need to grow an extra set of hands to keep up – sadly, I don't think it came out the way they imagined it would.
I mean, it's doable, but it's still hard.
Pros:
Encourages better posture
Relieves the strain in your back and arms
Flat surface prevents the baby from slipping out of position
Features Velcro straps and silent-release buckles
Has an attached pouch
Suitable for moms that had a C-section
The cover is washable
Cons:
Hard to put on with one hand
Final Verdict
I know why you're here – you want to know which one of these is the best nursing pillow on the market, right?
I don't want to keep you waiting any longer, so let's cut to the chase. My favorite (and I'm sure new mothers around the world would agree with me on this) is the My Brest Friend Deluxe Nursing Pillow. Yes, it's a bit pricier, but it doesn't have some of the issues commonly found in most other nursing pillows.
What do you think? Feel free to leave your thoughts in the comments below!