I always thought it takes a specific type of person to become a nurse. Putting someone else's needs in front of your own isn't easy for most – but for some people, it comes naturally.
So, I was thinking what I could do to say a big "Thank you" to all my fellow nurses out there that, in the midst of taking care of others, forget to take care of themselves. And it finally came to me:
What's every nurse's weak spot?
That's right, her hands!
That's why today's article is all about taking care of your poor, tired hands, and finding the best hand cream for nurses. Let's get started!
Hand Care For Nurses: The Whys And Hows Of Dry Hands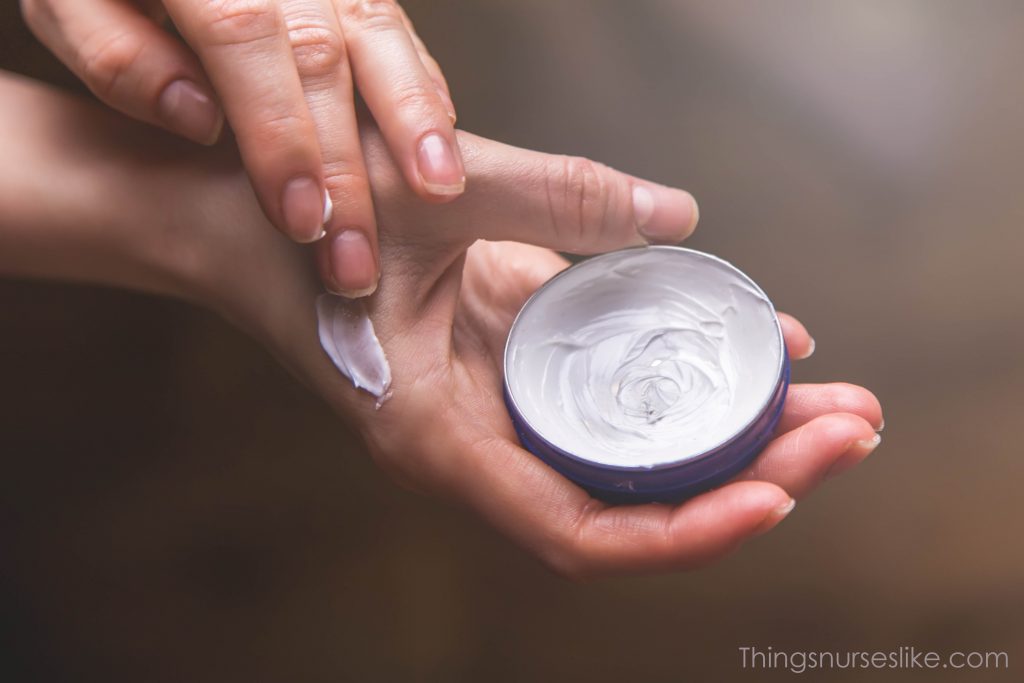 You come in contact with patients every day, so naturally, there's a lot of hand-washing going on – getting rid of all the germs is an essential part of creating a safe environment for both your patients, as well as yourself.
But here's what happens whenever you wash your hands with these antiseptic, disinfectant solutions and soaps:
Your skin is stripped of its protective barrier – all the oils, lipids, and proteins. Yes, it's clean – and that is your top priority – but it's also left feeling dry, and prone to cracking and peeling.
And while it's true that there's not much you can do regarding changing that scrub-rinse-repeat you have going on at work, there are a few tips that could help you soothe your dry hands, and prevent the situation from potentially worsening:
Use soap and water whenever that's possible. Alcohol-based sanitizers are excellent, but sometimes it's better to stick to the old-fashioned way of doing things.
If you want to avoid dry skin, you have to remember to moisturize – it's key to having well-hydrated, healthy-looking skin.
Don't forget to continue your skincare routine at home, too. How you take care of your hands in your spare time plays a huge role in how well they hold up at work.
When you work as a healthcare provider of any sort, though, it becomes more than just a matter of appearances – it becomes dangerous for you, and all your patients. As I said, dry skin is prone to cracking, and if the skin on your hands has cracked, there's a much higher risk of cross-infection, just because you're much more exposed to dangerous microbial lurking around in your workplace.
If it were up to me, I would encourage hand cream use in hospital settings, but since that's not an option, I hope to at least inspire you to take better care of your hands!
Oh, and speaking of taking better care of yourself, don't forget about your feet – they're the ones carrying you around all day. If you're in the mood for really treating yourself, check out the best nursing shoes for low back pain, too!
How To Be Sure You Picked The Best Hand Cream For Nurses?
Unfortunately, nurses (and medical workers, in general) don't have the luxury of picking whichever lotion they like best – there's a lot more to factor in before they can make that decision. It's vital that you check if a specific hand cream is safe to use in your particular environment, as well as profession. You are working in a clinical setting, after all.
That said, keeping track of all the ingredients, formulas, and fragrances can be a tricky business. That's why I always recommend my fellow nurses to focus their attention on the following requirements:
Hospital Grade
Non-Greasy
Oil-Free
Anti-Bacterial
Fragrance-Free
Nurse Approved/Recommended
There are several reasons why the factors mentioned above are non-negotiable when it comes to hand creams for nurses, but let's start with the most obvious one:
You're in direct contact with your patients on a daily basis and making sure you're not compromising their safety should be your top priority. You never know if one of your patients might have an allergic reaction or irritation due to the harsh fragrances and other ingredients found in most regular consumer hand creams.
Furthermore, it's rare, but entirely possible, for hand creams to be contaminated with bacteria – and you that's more than enough to cause infections and wreck havoc in hospital settings.
Lastly, their ingredients might not always be compatible with chlorhexidine gluconate (CHG), a disinfectant used by healthcare providers – or latex gloves, for that matter. By using an inadequate hand cream (such as one that contains oils), you can unknowingly compromise the integrity of your gloves, and cause them to deteriorate.
And yes, that means you're in for a lot of label-checking. That's why online shopping is the way to go here. I mean, you want to avoid spending a reasonable amount of time in the skin care aisle of your local store, looking like a crazy person going from product to product and reading labels, right?
To further help you out, I took the liberty of trying out five of the best hand creams for nurses currently available on the market. If you want to learn more about the hand creams, you should keep on reading!
Best Hand Cream For Nurses  (Top 5 Product Reviews)
Okay, time to check out some of the best hand creams for nurses to-date. I'm sure you'll have a personal favorite by the end of this round-up!
1. O'Keeffe's Working Hands Hand Cream – A Nurse's Lifesaver
The Working Hands hand cream is a heavy-duty moisturizer made to help heal and repair cases of extremely dry skin. The perfect solution for nurses, right?
On that note, don't worry about the "unwanted" ingredients. The hand cream has a non-greasy formula, plus it doesn't contain any fragrances – and you know how important both of those features are for medical workers.
The cream does not only help restore moisture levels, but it creates a protective barrier on your skin's surface to prevent further moisture loss, too.
The name can say a lot about the product, huh?
The cream does leave a slightly sticky residue on your hands, though. It's not a big deal, but the feeling of having something on my hands almost made me want to wash them even more, which kind of defeats the whole purpose, doesn't it?
Also, I have to warn you that it may cause some initial stinging if your skin is severely dry, and already cracked. It's not unbearable, and it should pass pretty quickly.
Also, I have to warn you that it may cause some initial stinging if your skin is severely dry, and already cracked. It's not unbearable, and it should pass pretty quickly.
Pros:
Heavy-duty moisturizer
Features a non-greasy formula
Doesn't contain any added fragrances
Suitable for people with diabetes, too
A tiny amount goes a long way
100% refund guarantee
Cons:
Leaves a bit of a sticky residue
May cause stinging on severy dry skin
2. AHAVA Mineral Hand Cream – Straight From The Dead Sea
If you're looking for a cream that can provide hydration, nourishment, and soothe your dry skin almost instantly, this one's pretty much the one.
Now, I know my fellow nurses are worried about all the hidden ingredients, but let me assure this hand cream is 100% nurse-approved. First off, it's paraben and petroleum-free, and SLS/SLES-free, so there's no skin irritants to worry about here.
Furthermore, the formula is tested for allergens and approved for use on sensitive skin, so even if your patients do come in contact with it, it shouldn't cause a skin reaction of any sort.
Oh, and if you're vegan, you'll appreciate the fact that this is a vegan-friendly, cruelty-free hand cream – and PETA certified it, as well! I mean, how much more proof do you need about how great this hand cream is?
Besides the price, which, you have to admit, is a bit too high for a hand cream, there's one more thing I'd like to point out – the smell. The AHAVA hand cream does have a fragrance, mostly due to the Witch hazel extract, and if you were looking for a cream with a neutral (or non-existent) smell, you might want to look elsewhere.
Pros:
Paraben and petroleum-free
Cruelty-free and vegan-friendly
SLS/SLES-free
Suitable to use on sensitive skin
Tested for allergens
Absorbs quickly and doesn't leave a greasy residue
Even a pea-sized amount is enough to get results
Cons:
It's expensive
The smell can be a bit overpowering
3. Gold Bond Ultimate Healing Hand Cream – Perfect Hand Cream To Have On The Go
Okay, you made it to the middle of my list. How are things holding up so far? Do you have any favorites yet? If not, maybe the next one will win you over – here's what the Gold Bond Ultimate Healing is all about:
Let's start with the ingredients – the cream features a non-greasy formula, rich in vitamins C, A, and E (the be-all-end-all vitamins when it comes to skin care). On top of that, it also contains seven intensive moisturizers, so you know it means business. Your hands will be left with all the extra moisture, and none of the greasiness!
Most importantly, the hand cream is dermatologist-tested and hypoallergenic, so rest assured it won't cause any unnecessary irritation or allergic reactions.
Now, the cream does have a mild fragrance to it, which poses two issues. First off, you might not be able to use it in your work environment – it all depends on the patients you work with on the daily. Plus, it doesn't even smell that nice.
Also, I found this one to be a bit expensive. I do like the small, handy packaging – what I don't like is paying way too much for it.
Pros:
Dermatologist-tested, non-comedogenic, and hypoallergenic hand cream
Non-greasy formula
Absorbs quickly and doesn't leave hands greasy
Lasts through hand-washing
Small tubes are perfect for hand-care on the go
Cons:
Has a mild fragrance to it
A bit pricey
4. Neutrogena Norwegian Formula Moisturizing Hand Cream – The Solution From The North
I'll let you in on a little secret about the Neutrogena's Norwegian formula – it was strongly inspired by all the balms and salves used by the Norwegian fishermen, who spent their lives working under extreme weather conditions.
And if it was something that worked for them, I think nurses could benefit from it, too.
It's all in the concentrated levels of glycerin – the formula is 40% glycerin, so you can expect some fantastic results if you're looking for instant relief for severely dry and chapped hands.
And while this one is fragrance-free, know that a scented version of this Neutrogena hand cream is available, too – there's no reason why you couldn't use it on your days off, right?
Now, it's not all sunshine and butterflies. First of all, the cream does seem a bit too thick, almost to the point of having an ointment-like texture. It's not a big deal for me, but some of you might find it odd.
Most importantly, though – and I say this at the risk of sounding all nit-picky – the screw-on lid was a big miss with this product. Handling everything after you've just finished applying the cream can be tricky business!
Pros:
Contains concentrated levels of glycerin
Helps deal with dry, as well as rough skin
Fragrance-free
Recommended by dermatologists
A little goes a long way
Excellent value for the price
Cons:
It feels a bit too thick
A flip-open lid would be a better fit
5. L'Occitane 20% Shea Butter Hand Cream – A Touch Of France
Looking at the creams content, you can see some of the skincare staples in there, like coconut oil, almond extracts, and honey. I know I'm not the only one who made at least one skin (or hair) mask with some of these ingredients! On top of that, the cream also has a 20% high shea butter content.
With all these natural ingredients at play, it's no surprise you'll notice a significant improvement in how your hands feel (and look) minutes after applying the cream. I know what you're wondering, and no, you won't leave greasy fingerprints everywhere, because there's no oily residue.
One thing I didn't like about L'Occitane hand cream is its tube. It's metal, which makes it super hard to squeeze out the remaining cream once you start nearing the end of the tube. Plus, it breaks and cracks all the time – note that every crease you make on it is a potential leaking spot.
All in all, though, if you don't have the time (or money) to visit the south of France, the least you can do is get yourself a hand cream that makes you feel like you are.
Pros:
The cream contains 20% of shea butter
Also includes honey, coconut oil, and almond extracts
Has a rich texture
Doesn't leave an oily residue
Cons:
Slightly overpriced
The metal tube is hard to manage and damages easily
Final Verdict
Okay, now's the time to make a decision – which one of these is the best hand cream for nurses? Well, while all the products mentioned above are excellent in their way, my vote goes to Neutrogena Norwegian Formula Moisturizing Hand Cream.
Would you agree, though?
You've seen the products, too, so don't be shy – tell me which one of these was your personal favorite? And, of course, if you found something that works, feel free to share it with the rest of us in the comments below!